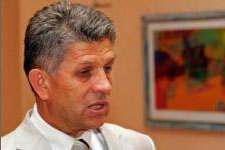 Enis Imamovic, the spokesman for the Bosniak Ticket for European Sandzak, says party leader and minister without portfolio, Sulejman Ugljanin is a man of his word and will provide pledged aid to his home town.
He told a press conference that Ugljanin would focus all his assistance on improving the lives of citizens, as well as developing the town of Novi Pazar – in Serbia's Muslim-dominated Sandzak region, and reducing poverty.
Mirsad Djerlek, mayor of Novi Pazar, last week requested financial aid from Ugljanin, for covering expenses for the two projects, Ugljanin had arranged last year when he was the mayor.
Djerlek said last week that the town owed €517,000 for beautifying the City Park and City Canal, and that Ugljanin, during his recent visit to the town, promised that the doors to his ministry were open and that now was the opportunity for him to keep his word and help Novi Pazar.
Imamovic today publicly asked Djerlek, who is a member of the rival Sandzak Democratic Party, what the leader of his party and the current Minister of Labour and Social Policy Rasim Ljajic had done for Novi Pazar during the nine years he spent in various positions in Belgrade.
"We expect from Ljajic as a minister to finally honour his staff and his mayor, and come for his first official visit to Novi Pazar. What does he, as a minister in charge of these matters, offer his own town when it comes to reducing unemployment?" asked Imamovic.
He called on mayor Djerlek to keep his pre-election promises and provide 50,000 new jobs to Sandzak, seven thousand of which were intended for Novi Pazar.
City authorities in Novi Pazar consist of coalition For A European Novi Pazar gathered around Rasim Ljajic's Sandzak Democratic Party, and United Serbian Ticket, made up of Serbian Radical Party, Socialist Party of Serbia, New Serbia, and Democratic Party of Serbia.
Ugljanin's coalition, which had absolute power in Novi Pazar in the previous mandate, is now in the opposition after May's local elections.