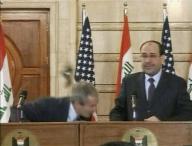 BAGHDAD (Reuters) – An Iraqi journalist who has admitted hurling his shoes at U.S. President George W. Bush appeared before a judge on Tuesday and confirmed his action, a judicial spokesman said.
TV reporter Muntazer al-Zaidi, who also called Bush a "dog" at a news conference with Iraqi Prime Minister Nuri al-Maliki on Sunday and became an instant sensation in the Arab world, faced charges of "aggression against a president," said Abdul Satar Birqadr, spokesman for Iraq's High Judicial Council.
Throwing shoes at someone is considered the ultimate insult in the Arab world and dogs are viewed as dirty and disgusting.
"Al-Zaidi was brought today before the investigating judge in the presence of a defense lawyer and a prosecutor," Birqadr said. "He admits the action he carried out."
The court decided to keep Zaidi in custody, and after the judge completes his investigation of the case may send him for trial under a clause in the Iraqi penal code that punishes anyone who attempts to murder Iraqi or foreign presidents.
Such a crime could result in imprisonment of seven to 15 years, Birqadr said.
Zaidi's brother said on Tuesday he was hit in the head with a rifle butt and had an arm broken in the chaos that broke out after he threw his shoes at Bush and was leapt on by Iraqi security officers and U.S. secret service agents.
He was in a hospital in the heavily fortified Green Zone in Baghdad, his brother Maitham al-Zaidi said.
"All that we know is we were contacted yesterday by a person — we know him — and he told us that Muntazer was taken on Sunday to Ibn-Sina hospital," Maitham al-Zaidi said. "He was wounded in the head because he was hit by a rifle butt, and one of his arms was broken."
The brother declined to identify the source of the information and his comments could not be independently verified. Asked about the brother's remarks, various Iraqi officials denied having responsibility for the case.
Birqadr said he was not present during the hearing and so could not confirm whether Zaidi was injured.
He said Zaidi declined an offer to be defended before the court by a lawyer who represented former Iraqi leader Saddam Hussein at his trial. Saddam was hanged in 2006.
ANGER
Zaidi's family says he harbored deep anger against Bush, blaming him for the tens of thousands of Iraqis who died after the 2003 U.S.-led invasion unleashed a wave of sectarian and insurgent violence that has only now begun to die down.
Bush, in return, had no hard feelings about the incident, White House spokeswoman Dana Perino said.
"The president just thinks that, it was just a shoe, people express themselves in lots of different ways," she said.
Asked whether Bush believed the journalist should be punished, Perino replied:
"The president believes that Iraq is a sovereign country, a democratic country, and they will have a process that they follow on this. But, as I said, the president harbors no hard feelings about the incident."
Birqadr declined to identify the judge who presided over the initial investigatory hearing on Tuesday.