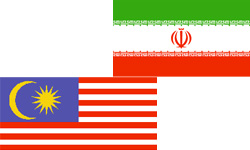 TEHRAN (FNA)- Iran and Malaysia are planning to work together in Islamic banking to step up the sector's global presence and to expand business relations between the two countries.
Malaysian Prime Minister Abdullah Ahmad Badawi said Mellat Bank, a leading Iranian financial institution, was keen to establish an offshore branch in Labuan and provide support for the growth of bilateral economic activity.
In opening remarks at the delegation meeting with Iranian President Mahmoud Ahmadinejad, Badawi said Malaysia had introduced many new Islamic financial products and services.
"There is much we can do together to promote Islamic banking and financing. Cooperation in this sector will facilitate trade and other business transactions between our countries."
He told Ahmadinejad that Malaysia would address problems faced by investors, including the case of a Malaysian company involved in construction projects in Iran which faced problems obtaining facilities from the Exim Bank of Malaysia.
The Malaysian prime minister said as infrastructure development was an area that both countries had been able to work closely on, more Malaysian companies were undertaking housing projects in the Islamic republic.
Malaysian companies were also involved in the construction of railways and highways.
He told the meeting that the list of items traded between the two countries could be increased.
The Iranian-Malaysian Joint Trade Committee should not only raise the volume of trade but also identify new products which could be exchanged between the two nations, he said.
Iran is now Malaysia's third largest trading partner in the Middle East, with a total trade value of US$1.04 billion last year compared with US$1.02 billion in 2006.
About 83 per cent of Malaysia's imports from Iran consist of crude oil and petroleum products.
Badawi said the tourism sector had made significant progress, with arrivals from Iran in Malaysia totaling 27,215 last year. In 2002, only 9,416 Iranians visited Malaysia.
Kuala Lumpur and Tehran, Abdullah said, could also learn from each other in the fields of nanotechnology, biotechnology and advanced medical sciences.
He said the Iranian Technology Cooperation Organization was already in collaboration with the Health Ministry to commercialize certain products.
Badawi said Malaysia had set itself up as a regional hub for halal food, which constituted a special niche in international trade that could expand trading activities between Malaysia and Iran as well as with members of the Organization of the Islamic Conference (OIC).
He also invited Iran to invest in the economic corridors established in many parts of Malaysia.
Internationally, Iran and Malaysia should work together to strengthen the role of the OIC, Non-Aligned Movement and the Group of 77 at the United Nations as well as in other international organizations.
"I look forward to discussing international issues, especially those affecting the Ummah (Islamic Nation) most," he said to Ahmadinejad.
The two countries are due to sign memoranda of understanding on science and technology cooperation and combating illicit trafficking of narcotic drugs, psychotropic substances and precursors.