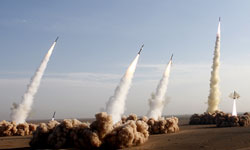 TEHRAN (FNA)- Russia denied that it was delivering sophisticated S-300 surface-to-air missiles to Iran, following reports it was about to supply the weapons to the Islamic republic.
"The information on the delivery of S-300 air-defense systems to Iran, which has appeared in certain media outlets, does not correspond to reality," Russia's military-technical cooperation agency said in a statement.
A senior Iranian lawmaker on Sunday claimed that the deal had already been finalized with Moscow.
Deputy Head of the parliament's National Security and Foreign Policy Commission, Ismael Kowsari, on Sunday told the Islamic republic news agency that after several years of negotiations, Iran had reached an agreement with Russia for delivery of an S-300 defense system – also known as SA20 – in the near future.
Kowsari said the system would strengthen Tehran's ability to defend the country's airspace.
But on Monday, Iranian Foreign Ministry Spokesman Hassan Qashqavi said that he was not informed of any final agreement with Russia for delivery of the air defense system to Iran.
"The Foreign Ministry has not yet received anything final in this regard, therefore I can neither confirm nor deny this agreement," Qashqavi told reporters during a weekly press conference here in Tehran yesterday.