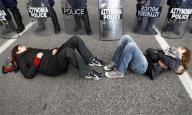 ATHENS (Reuters) – Hundreds of anarchists marched through Athens on Tuesday hours after a gunman opened fire at a riot police bus, in a third week of anti-government protests since police shot dead a teenager.
Police said the unidentified gunman shot at the bus carrying 19 officers when it stopped at traffic lights outside a university campus in eastern Athens at around 5 a.m.
Two bullets hit the bus, bursting a tire, but no one was injured in the incident. A police official, who asked not to be identified, said the shots were believed to come from the campus and were fired from a military weapon.
Authorities are investigating the incident, which followed a two-day lull in disturbances.
Police are forbidden by law from entering the university without permission. It has become the epicenter of disturbances which have caused hundreds of millions of euros in damage and lost business for shopkeepers in the capital.
Some 500 anarchist students, including dozens who are occupying the Athens law school, marched through central Athens on Tuesday, many of them chanting "Cops, Pigs, Murderers" and waving red and black flags. They burned an effigy of a pig's head wearing a police hat outside parliament.
Unlike demonstrations during the previous two weeks, the protests remained largely peaceful. The only incident reported was when a small gang of youths who broke away from an earlier student rally overturned an empty police car in central Athens.
The fatal police shooting of Alexandros Grigoropoulos on December 6 unleashed widespread discontent at high youth unemployment, government scandals, right-wing reforms and an economic slowdown due to the global crisis.
The violence has shaken a conservative government that has a fragile one-seat majority and trails the opposition in opinion polls by around 6 percentage points. Some analysts say months of street protests could force early elections next year.