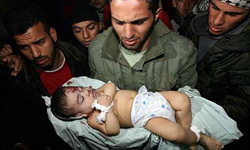 TEHRAN (FNA)- The religious leader of the Iranian Jews, Rabbi Golestaninejad, has issued a decree calling on Jews to help Palestinians, specially those under the Israeli blitzkriegs in the Gaza Strip.
It is the duty of every "monotheistic Jew" to help these people, Golestaninejad said.
He called on his coreligionists to support Gazans with their financial, medical and food aid, FNA reported on Wednesday.
Zionists behave against the teachings of Judaism, adding that any assistance to the Zionists is considered religiously unlawful, he said.
He denounced the atrocities by the Zionist regime in the Gaza Strip, expressing hope that peace and stability will prevail in Beit-ul-Muqaddas in the near future