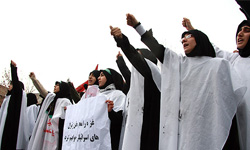 TEHRAN (FNA)- Iranian student groups have appealed to the government to authorize martyrdom-seeking volunteers to leave Iran and fight against Israel in response to the Israeli assault on the Gaza Strip.
The government of President Mahmoud Ahmadinejad had not responded to the call by Wednesday. Five student groups and a clerical group launched a registration drive on Monday, seeking volunteers to carry out martyrdom-seeking attacks against Israel.
A number of almost 20,000 people in different Iranian cities registered their names in the list of volunteers to fight against Israel on the very first day on Monday, while thousands more are still joining the campaign.
"Volunteer student martyrdom-seeking groups … are determined to go to Gaza. You are expected to issue orders to the relevant authorities in order to pave the way for such action," the students advised Ahmadinejad in an open letter on Wednesday.
Volunteer groups have made similar moves in the past and the government never responded to their calls.
The groups started signing up volunteers after Iran's Supreme Leader Ayatollah Seyed Ali Khamenei issued a religious decree on Sunday that said anyone killed while defending Palestinians in Gaza against Israeli attacks would be considered a martyr.
In a speech Tuesday, Ahmadinejad called for the trial of Israeli leaders on charges of massacring Palestinians in Gaza.
His comments come a day after Iran's judiciary set up a court to try Israeli leaders for such "crimes."
Israel's airstrikes on Gaza have sparked outrage in Iran and throughout the rest of the Muslim world. Five days of Israeli air strikes have killed 390 Palestinians and prompted Arab and international condemnation and a global diplomatic push to end the fighting.
At a gathering Tuesday in Tehran to support Gazans and condemn Israeli attacks, members of the martyrdom-seeking groups were distributing registration forms to volunteers.
Volunteer Ali Reza Takrim Namini said a "sense of religious obligation" made him register for suicide attacks against Israel.
"How can I remain indifferent while defenseless Palestinians are being butchered," he said as he filled out his form.
"I'm willing to sacrifice my blood in support of Islam and in defense of Palestinian Muslims," said another volunteer, Mostafa Babaei.
The volunteers wore white shrouds symbolizing their willingness for martyrdom and headbands with the slogan "Defenders of Gaza" and "Ready for Martyrdom." Most of those registering were members of the Basij (mobilized volunteers).
Also in Tehran, students regularly rally in front of Egypt's interest section office to condemn Cairo's refusal to reopen the Rafah border crossing with Gaza for humanitarian supplies.
They warned they would storm the mission by midnight Thursday if Egypt doesn't condemn the Israeli attacks and if it keeps the border crossing closed.
Protesters are also holding daily gatherings in front of Jordanian and Saudi embassies to denounce Arab silence over the Gaza bombing, and in front of the UN building in Tehran to condemn UN inaction.
Students have also called on Muslims to boycott products from companies connected to Israel.
The Iranian Red Crescent has sent a ship carrying 2,000 tons of food to Palestinians living in Gaza to be delivered through Egypt and an Iranian cargo plane landed in Cairo Monday with 24 tons of food and medicines for Gaza.
The head of Iran's Red Crescent Masoud Khatami said three more ships were waiting to be loaded with humanitarian aid, and Iranian hospitals were ready to receive injured Gazans.
This is while several wounded Palestinians have already been transferred to Tehran hospitals for treatment.