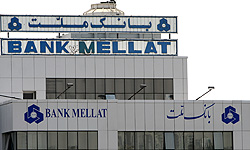 TEHRAN (FNA)- A five per cent block of Bank Mellat shares is to be offered on the Tehran Stock Exchange.
Bank Mellat shares will be on offer during Ten-Day Dawn ceremonies (31 January – 9 February), according to the deputy head of the Iran Privatization Organization (IPO), Esmaeel Gholami. Bank Mellat is the third largest state-owned bank in Iran.
The Managing Director of IPO, Gholam Reza Kord Zanganeh, had previously said that the shares would be offered on the stock market for price assessment in the current month.
Esmaeel Gholami told MNA that the audit report of Bank Mellat for the past six months would be ready in 20 days.
"Firms affiliated to the bank are being registered to turn them into joint stock companies," he said.
If the sale of Bank Mellat shares goes well, other Iranian banks are also expected to be listed.
Separately, Malaysian state news agency Bernama reported Foreign Minister Datuk Seri Rais Yatim as saying the Malaysian government has "approved Bank Mellat of Iran to obtain an offshore banking license and to establish a branch in Labuan".
"We hope the opening of a Bank Mellat branch in Labuan will further enhance trade and economic ties between both countries," he added.
Iran is Malaysia's third largest trading partner in the Middle East.