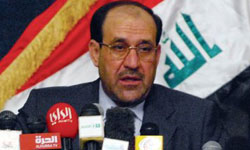 TEHRAN (FNA)- Relations between Iraq and Iran are developing in a number of ways, Iraqi Prime Minister Nuri al-Maliki said during a visit to Iran.
"The exchange of high ranking visits between the two country's officials shows that the bilateral relations are developing in different areas," Maliki said after a meeting with Iran's first vice-president, Parviz Davoudi.
Maliki, who arrived here on Saturday for a two-day visit, also met Iranian President Mahmoud Ahmadinejad.
In the meeting, Ahmadinejad prioritized "regional cooperation to establish security in the region."
"Our Islamic and humane duty requires that we always stand by the Iraqi nation," he said.
The Iranian president also said that the two countries can "rapidly boost relations and bilateral trade with the wisdom and will of their leaders."
Maliki is also scheduled to meet with Foreign Minister Manouchehr Mottaki.
Ministerial members of Maliki's delegation immediately went into talks with their Iranian commerce, power and transportation counterparts.
The two sides agreed to boost bilateral trade from the current level of about five billion dollars, with Maliki urging greater Iranian investment for his war-battered country.
"After elevating security and freeing Iraq from sectarian fighting, it is time to work hard to reconstruct the country and there is a need for companies from neighboring nations to take on reconstruction projects," Maliki said.
Maliki's fourth visit to Iran since he took office in 2006 is his first since the December 14 signing of a bilateral security agreement for US troops to remain in Iraq until the end of 2011.
The Iraqi premier's trip was initially scheduled for late December.