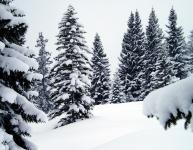 The heavy snow fall across the Balkans during the New Year holiday has left mountainous areas of Macedonia and Albania cut off and running low on food, with traffic bottlenecks affecting the rest of the region.
The Albanian government called up army engineers and police special forces to free up major highways, while the country's Center for Civil Emergencies said over 150,000 people had been cut off from the rest of the country in the regions of Kukes, Dibra and Shkodra. Schools remain closed in many areas affected by the snow.
"Police patrols have been stationed 24-hours on major highways, to cope with the difficult weather conditions," Bujar Nishani, Albania's Minister of Interior, said on Sunday.
In Macedonia's north eastern village of Drenak near the town of Kriva Palanka, around 30 mostly elderly residents were reported to be left almost without food supplies. The road to the village is blocked by heavy snow and the only way to get to them is by using helicopters.
The villages of Blizansko, Zdunje, Bence, Brez and others that lie in western Macedonia, in the mountainous region of Porece, were completely cut out with food supplies for only several days, local media reported. The snow in some parts exceeded one meter.
Many villages in the nearby Mavrovo region are also cut off. Local Dnevnik daily reported at least 50 tourists who spent the winter holidays in that area were stuck in the villages.
The traffic over the weekend slowed down and on several places completely came to a halt, the national traffic control reported. Hospitals in the capital Skopje reported about a hundred patients coming in with broken or fractured bone injuries due to slipping on icy streets.
Meteorologists said that after a brief sunny spell on Monday and Tuesday, the snow fall was expected to continue on Wednesday.