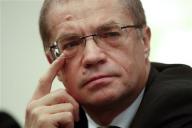 MOSCOW/KIEV (Reuters) – The European Union on Monday scheduled talks with Russia to press for a speedy resolution of a dispute with Ukraine that has hit gas supplies to countries in eastern and southern Europe facing freezing temperatures.
Russian gas monopoly Gazprom cut off gas supplies to Ukraine on January 1 in a dispute over debts and pricing that shows no sign of ending.
The move has worried European countries, which get one fifth of their gas through pipelines that cross Ukraine.
An EU fact-finding mission will meet Gazprom officials on Tuesday, although there was no immediate danger to EU consumers from the dispute, an EU Commission spokesman said.
The Commission said the meeting would be in a European capital but the venue had not been confirmed.
"Since we are the main market for Russian gas … we have an obvious interest in applying pressure on these parties to reach as soon as possible an agreement which is definitive," Johannes Laitenberger said.
Disruptions to gas supplies that had already hit Turkey, Poland, Romania, Bulgaria and Hungary spread to Croatia and Greece on Monday, energy firms said.
"We were informed today that we would receive only 4 million cubic meters of natural gas from Russia compared to our request for 6 million cubic meters, due to the dispute," an official at Greek gas operator DEPA told Reuters.
In the Czech Republic, holder of the EU's rotating presidency, gas supplies dropped at the weekend but were back to normal on Monday, the country's main supplier said.
Temperatures in the Bulgarian capital, Sofia, were minus 5 degrees Celsius on Monday while in Hungary they were minus 3 degrees Celsius.
The gas row, which mirrors a dispute three years ago that disrupted supplies to Europe via Ukraine, threatens Russian ties with the West already strained by Moscow's war in Georgia in August.
The Kremlin has long opposed Ukraine's ambition to join NATO and some Western policymakers see parallels between the Georgian conflict and Russia's treatment of Ukraine.
Gazprom's chief executive, Alexei Miller, will meet Russian Prime Minister Vladimir Putin on Monday for talks on the dispute, a government spokeswoman said.
The European Union has also called an emergency meeting of envoys for 8:30 a.m. EST on Monday in Brussels. The previous dispute in early 2006 led to calls for the EU to diversify its energy supplies, but it has struggled to break its reliance on Russia.
BALKANS AFFECTED
State-controlled Gazprom has blamed Ukraine for siphoning off or blocking deliveries of gas equivalent to one-sixth of Russia's total supplies to Europe. It said it was pumping additional volumes to make up for the shortfall.
Ukraine has accused Moscow of deliberately cutting flows to Europe. Kiev has said the EU should send a signal to the Kremlin that it cannot bully its pro-Western neighbors.
Worries about the impact of the row on fuel supplies, coupled with the conflict in the Middle East, helped drive oil prices to a three-week high. Any gas shortages could drive up demand for oil products.
Gazprom's deputy chief executive, Alexander Medvedev, said the company was prepared to "negotiate day and night" with Ukraine to find a solution to the gas row, but that alternative gas supply routes were "a must."
"We are not only not close to a settlement, but we don't even see any negotiating partners at the table," Medvedev told a news briefing in Paris.
Gazprom is demanding Ukraine pay $450 per 1,000 cubic meters of gas after Kiev rejected a previous proposal of $418. The price is more than double what Kiev says it is willing to pay.
Ukraine's economy, among the worst hit by the global financial crisis, is forecast to contract by between 3 percent and 5 percent this year, leaving it little room to accept the higher gas prices Russia is demanding.
The hryvnia currency was quoted weaker at 8.15-8.5 to the U.S. dollar, from 7.9-8.3, but dealers said trade was very weak.
With no negotiations in sight, Russia and Ukraine have said they would bring cases against each other in a Stockholm arbitration court that deals with international commercial disputes.