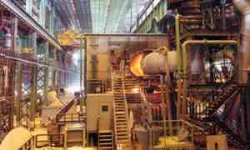 TEHRAN (FNA)- Managing Director of Isfahan Steel Mill Bahram Sobhani called for increasing steel import tariffs in light of reduced demand and falling prices in world markets.
Sobhani said that steel import tariffs should be raised by 30% in order to support domestic producers, adding that increased tariffs will not push steel prices up, Iran Daily reported.
He added that the country needed around 20 million tons of steel last year, of which 11 million tons were produced by domestic manufacturers.
"To minimize the effects of illegal sanctions on the industry, especially on the railway sector, Isfahan Steel Mill inked an agreement with the Islamic Republic of Iran Railways to produce rail tracks domestically," Shobani further added.
Under the agreement, close to 20,000 tons of rail tracks will be produced and delivered to Iran Railway over the next month.