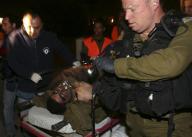 GAZA (Reuters) – Israeli troops backed by air strikes fought to seize ground from Hamas militants deep inside the Gaza Strip on Monday despite international calls for a ceasefire in a conflict that has killed more than 540 Palestinians in 10 days.
More than 30 civilians, including children, were killed on Monday, the third day of an Israeli ground offensive, medics said. Israel said it killed dozens of Islamist guerrillas as the battle crept into the suburbs of the city of Gaza itself.
Frightened families huddled in rooms away from windows: "Until now I was not afraid," a Reuters journalist said from his home in the city of 500,000. "I am afraid now and my daughter is trembling the whole time. No place seems to be safe."
Israel's defense minister said the assault, which he hopes can stem rocket fire on its own towns, could get harder for troops. They were edging forward, wary of Hamas's quest for more captives to join a soldier used as a bargaining chip since 2006.
Hamas vowed to fight on in "every street, every alley" and threatened to fire more missiles across the border into Israel. Threats to resume suicide bombings have yet to materialize.
French President Nicolas Sarkozy, on a peace mission to the Middle East, and U.S. President George W. Bush, in his final weeks in the White House, both appealed for a ceasefire.
But disagreement on who should stop shooting first and on what terms made the chances of an immediate pause seem remote.
The reminder of conflict stubbornly rooted at the heart of the Middle East helped drive oil prices up 5 percent and analysts questioned whether there was any prospect of a peace that has eluded Israel and the Palestinians for over 60 years.
Israel, whose leaders are fighting a parliamentary election on February 10, made clear its priority was to secure the safety of its citizens. Hamas called for a lifting of the blockade of the enclave, crammed with 1.5 million people whose lives are growing ever more squalid. Many lack food, water or power.
The death toll in Gaza rose to at least 541 people. Among Monday's 33 civilian victims were 13 members of a Palestinian family killed in an Israeli strike on their home in a refugee camp, Palestinian medical officials said.
BATTLE RAGES
Israel launched the offensive after Hamas called off a six-month truce last month and stepped up its rocket attacks in response to Israel's raids and blockade of the enclave, which the Jewish state occupied from 1967 to 2005.
Israeli soldiers and Islamist militants fought throughout the day and into the night on Monday. Militants fired mortars and grenades and detonated mines and tried to lure Israeli soldiers into built-up areas, witnesses said.
Although Israel allowed in 80 trucks of supplies on Monday, people badly needed food, medical supplies and other aid but the hostilities were hampering relief efforts, aid agencies said.
The Israeli air force bombed dozens of targets, including homes of Hamas members used as weapons depots.
Israel's advances into Gaza have carved the 40 km (25 mile)-long coastal territory into two main zones.
Defense Minister Ehud Barak told lawmakers that Hamas had been dealt a heavy blow: "But we cannot say that its fighting capabilities have been harmed … Hamas did not seek a direct confrontation with our forces," he said. "Difficult moments lie ahead in this operation and the main test could still be ahead."
Hamas leaders, who have support from Iran and Syria but are viewed with suspicion by most Arab states, rallied their men with defiant rhetoric. Thousands of fighters were waiting "in every street, every alley and at every house" to tackle them, Hamas military spokesman Abu Ubaida said in a broadcast speech.
Hamas would increase its rocket strikes on Israel if the Israeli attacks on Gaza continued, Ubaida said.
A rocket hit the Israeli port city of Ashdod, damaging a building and wounding two people, police said. Four Israelis have been killed by salvoes since the offensive began. Five were killed in such attacks in the previous two years.
An Israeli soldier was killed in fighting on Sunday and 48 have been wounded since the ground invasion began.
PEACE CALLS
Sarkozy called for a rapid ceasefire and said "time is running against peace." "The guns must fall silent, there must be a humanitarian truce," Sarkozy said, telling President Shimon Peres in Jerusalem: "Israel should take the risk of peace."
He also condemned Hamas for attacks on Israeli civilians that, he said, had brought misery on the people of Gaza.
Israeli Foreign Minister Tzipi Livni rebuffed European proposals for international observers in the Gaza Strip after any ceasefire, pushing instead for teams to help search out and seal off tunnels that could allow Hamas to rearm.
At the United Nations, Arab countries were drafting a resolution to demand an immediate end to "Israeli aggression."
Hamas, which wants to reverse the events of 1948 that created the Jewish state and turned Palestinians into refugees, won a parliamentary election in 2006. It routed rival forces loyal to Palestinian President Mahmoud Abbas in Gaza in 2007, creating a schism that has blighted Abbas's bid to found a Palestinian state through U.S.-brokered talks with Israel.
U.S. President George W. Bush, in his final weeks in the White House, blamed Hamas for provoking bloodshed and said any ceasefire must include provisions to stop its rocket attacks.
"Instead of caring about the people of Gaza, Hamas decided to use Gaza to use rockets to kill innocent Israelis," he said.
With Bush's successor Barack Obama shying away from taking a public stand on the violence, Sarkozy and other Europeans have seen an opportunity to intervene, but to little result.
U.S. security analyst Anthony Cordesman said Obama's silence and Bush's refusal to join EU and Arab leaders in demanding that Israel cease fire immediately had turned the latest fighting into a strategic liability for the United States, by irking U.S. allies and complicating U.S. security concerns in the region.
Saudi Arabia, key oil producer and a bulwark for U.S. interests, said the international community should do more to stop Israeli "barbarity" and should not ignore the history of its occupation and settlement of Palestinian territories.
While noting the difficulties of resolving the conflict, Cordesman of Washington's Center for Strategic and International Studies said: "Israel cannot achieve peace or even political stability by turning Gaza into even more of a defeated, hopeless Palestinian prison camp … For all the talk of a 'peace process', however, history has been more of a 'war process'."