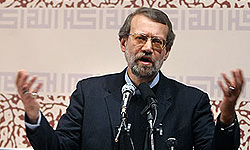 TEHRAN (FNA)- Gaza will become Israel's graveyard, Iranian Parliament Speaker Ali Larijani said after the Zionist regime launched a ground offensive deep into the coastal Palestinian territory following eight days of deadly air and sea bombardments.
"The Zionists faced the powerful resistance of the zealous Palestinians … the Zionists should know that Gaza will become their graveyard," Larijani said while addressing the parliament, where the MPs shouted "down with Israel, down with the Zionists" in response.
Israel's attacks on Gaza have sparked repeated protests in Tehran and elsewhere in Iran.
Iranian officials have condemned international inaction and bias towards Israel, a view underlined by Saeed Jalili, Secretary of Iran's Supreme National Security Council (SNSC), on Sunday.
Gaza is "a scene of disgrace for those who claim to be confronting terrorism," he said during a visit to Beirut.
"Today they are not only keeping quiet vis-à-vis the Zionist terrorism, they are actually confirming it," he said.
He further called on all countries to stop Israel's "war machine".
Meanwhile, the Lebanese anti-riot police fired teargas and water cannons at dozens of demonstrators who protested near the US embassy on Sunday against Israel's genocide on the Gaza Strip.
The incident occurred when some 100 protesters, mainly partisans of the communist party and other leftists groups, tried to overrun barbed wire blocking access to the embassy compound in Awkar, just north of Beirut.
Earlier, thousands of people demonstrated outside UN headquarters in Beirut against 9 days of Israel's deadly air and sea bombardments of Gaza Strip and the ground offensive which was launched late on Saturday on Gaza.
Protesters carried effigies of US President George W Bush and acting Israeli Prime Minister Ehud Olmert, both with shoes sticking out of their mouths, as well as flags of the Islamist Hamas which rules Gaza.
Overnight thousands of Palestinians held night vigils and protests in several refugee camps in southern Lebanon, torching Israeli flags and pictures of Israeli Defense Minister Ehud Barak, an AFP correspondent said.
In a related development, Hamas said on Sunday it was ready for an unconditional national dialogue to respond to a nine-day Israeli carnage that has killed over 531 people and wounded 2,500 more in the Gaza Strip.
"Hamas is calling for a national meeting to counter the aggression," Mohammed Nazzal, a member of the group's politburo, told pan-Arab television Al-Arabiya.
Israel launched a ground invasion late on Saturday, pouring tanks and troops into the Hamas-controlled territory after 8 days of air strikes.
"We are ready to hold a meeting anywhere agreed upon without any conditions… The sole theme: how to counter the aggression because there is no time to talk about any other issue," Nazzal said.
"This is not the time to discuss differences," he told the news channel.