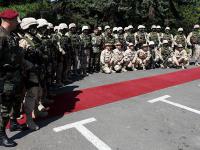 A contingent of 150 Macedonian troops headed to Afghanistan on Monday to join the ISAF peacekeeping mission.
The country had so far sent 90 peacekeepers. The troops will serve as part of the UK contingent in the capital Kabul where they will be tasked with securing the main command of the ISAF forces.
The soldiers will also patrol and secure the military base and facilities of vital importance to Afghan population, the Ministry of Defence said in a statement.
Macedonia started participating in ISAF in August 2002 with a small mission, then increased its contingent significantly in June 2006. When the government pulled its 40 peacekeepers from Iraq last month it said it would strengthen its Afghanistan force instead.