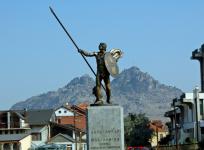 Macedonia's government has renamed a main highway after the ancient conqueror Alexander the Great, whose ethnic origin is one part of the thorny 17-year dispute between Macedonia and its southern neighbour Greece over Macedonia's name.
Government spokesman Shefik Duraku told local Alfa TV that "Alexander of Macedon" will be the new name of the country's main highway that runs from Serbia to the north to the Greek border to the south as part of the pan-European Corridor 10.
Duraku added that the main soccer stadium in Skopje would be renamed to Arena Philip the Second, after Alexander's father, and the same name was chosen for the planned cargo airport near the central Macedonian town of Stip.
Local media have speculated that such moves, guaranteed to provoke vehement protests from the Greeks, are part of the government's "plan B" after Athens blocked Macedonia's membership to NATO last April, and indicated it would veto the country's European Union entry as well.
Greece says Alexander was a Greek hero and the name Macedonia implicates territorial claims on its own northern province of the same name. A move last year to rename the Skopje airport to Alexander the Great raised a storm of protest in Athens.
The dispute dates from the early 1990s, after Macedonia broke away from socialist Yugoslavia. Greece blockaded the new state, forcing Macedonia to change its flag and its constitution in order to end the embargo and eventually sign an interim U.N. accord.
In November, Macedonia announced it is taking Greece to the International Court of Justice in The Hague, arguing that Athens broke that 1995 accord when it put the breaks on its NATO invitation.