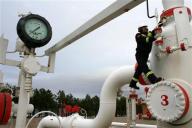 MOSCOW/KIEV (Reuters) – Russia reduced gas flows to Europe via Ukraine on Monday, a measure it said was to stop its neighbor siphoning off fuel but which Kiev said could jeopardize supplies to European countries including Germany.
Countries in southern and eastern Europe reported new falls in gas supplies from Russia while Serbia and Bulgaria urged industry to scale back demand and switch to alternative fuels, the first sign supply disruptions were hitting customers.
In an escalation of a pricing row with Ukraine that saw Russia cut off gas supplies to its neighbor on New Year's Day, Russian Prime Minister Vladimir Putin ordered supplies pumped via Ukraine to Europe to be cut by about one sixth — the same amount Moscow accuses Kiev of illegally siphoning off.
"Yes, cut it today," Putin told Alexei Miller, chief executive of state-controlled gas export monopoly Gazprom, adding that the company should brief European Union states on what it was doing.
Europe relies on pipelines across Ukraine for one fifth of its gas. Russia alleges that since the cut-off Kiev has been taking supplies intended for customers in Europe, while Ukraine blames Russia for the supply shortfalls.
European Commission President Jose Manuel Barroso said he had appealed to Putin and Ukrainian Prime Minister Yulia Tymoshenko not to let their dispute affect Europe's gas supplies.
"I hope that the matter will be resolved, as the reality is that if it is not then it may create problems for European countries who are not responsible for the situation," he said.
WINTER TEMPERATURES
The disruption to gas flows has raised new questions about Russia's reliability as an energy supplier and rekindled Western suspicions — still fresh after Russia's war with Georgia last year — that the Kremlin bullies its pro-Western neighbors.
Russia has clashed repeatedly with Ukraine's pro-Western leaders over their ambition to join the NATO alliance. Gazprom denies any political motive in the row and says it is purely about Kiev's refusal to pay a fair price for its gas.
Ukrainian state energy firm Naftogaz said in a statement Putin's order to cut supplies threatened gas flows to 10 countries including Germany, Europe's biggest economy. Gas deliveries to Germany have so far been unaffected.
The supply disruptions are worse than those caused by a similar row over gas three years ago, with countries in southeastern Europe reporting the steepest falls in flows. For a list of countries affected, click on.
Greek natural gas operator DEPA said delivery of Russian gas was down by a third, supplies to Romania dropped 33.8 percent between Sunday and Monday, and Macedonia said its gas flows also fell by about a third.
The disruptions come at the worst possible time of year because cold temperatures mean demand is high. The daytime temperature in Bulgaria on Monday was minus 5 degrees Celsius and in Hungary, another affected country, it was minus 3.
CONTINGENCY PLANS
Russia has said it would compensate for the reduction in supplies via Ukraine by pumping more gas through alternative routes, which pass through Belarus and Turkey.
It was unclear if these routes had the spare capacity to cover the shortfall. For a factbox on export routes for Russian gas, click on.
With the row in its fifth day and no sign of a resolution or even a resumption of aborted talks between Russia and Ukraine, energy firms were concerned the gas they had stockpiled might not see them through the crisis.
"We have already asked our major consumers to prepare plans for switching to another fuel," said Dusan Bajatovic, head of Serbia's state-run gas monopoly. Bulgaria's Economy Ministry said it was taking similar measures.
As demand for gas tightened, Norwegian oil and gas producer StatoilHydro — Europe's No. 2 supplier after Gazprom — pledged to sell surplus natural gas to EU markets.
The head of a consortium hoping to build a pipeline that will provide Europe with an alternative to Russian gas supplies said on Monday he believed the project, dogged by doubts about its viability, would receive key EU approvals early this year.
"Diversification will be even more important in light of … developments," said Reinhard Mitschek, Managing Director of the Nabucco consortium, referring to the Russia-Ukraine conflict. The project plans to plans to pump gas from the Caspian region to the EU.
Gazprom is demanding Ukraine pay $450 per 1,000 cubic meters of gas after Kiev rejected a previous proposal of $418. The price is more than double what Kiev says it is willing to pay, though less than what most EU states pay.
EU customers pay about $500 per 1,000 cubic meters of Russian gas, but the price — which traditionally follows oil with a six-month lag — is set to drop in line with crude, which has lost two-thirds of its value since peaking in July 2008.