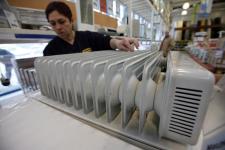 The impact of the Russia-Ukraine gas dispute on the Balkans reached crisis point on Thursday, leaving hundreds of thousands without heating and forcing businesses to cut production or shut down altogether.
Many Balkan countries have no alternative routes and rely almost entirely on Russian gas, which stopped flowing completely on Wednesday after declining steadily since New Year's Day.
Bosnia was among the hardest hit in the region, with some 100,000 households having no heating and some schools forced to close. There was panic buying of electric heaters in the capital Sarajevo, and demand for wood and coal soared.
Bosnia's Foreign Minister Sven Alkalaj wrote a letter of protest to Moscow and Kiev, saying the row "jeopardizes 4 million people who should not be hostages of a dispute between the Ukraine and Russia."
The country consumes around 350 million cubic metres of gas annually, most of it imported from Russia, and has no gas reserves.
In Bulgaria, some 65,000 households were without central heating.
Kindergartens and many schools were closed and trams and buses in the capital Sofia switched off heat.
In the coastal city of Varna, residents protested in front of the Russian Consulate with placards saying "Stop Putin's gas war."
The state limited or cut gas supplies completely to industrial consumers on account of falling domestic reserves, and retailers were reporting a run on electric heaters, prompting authorities to appeal for moderation in power use.
"Electricity distribution will not survive another hike in consumption," said CEZ power utility, power supplier for western Bulgaria.
Russia supplies one-quarter of Europe's natural gas, and about 80 percent of that is shipped through pipelines crossing Ukraine. Other smaller pipelines run through Belarus and Turkey.
On Wednesday, all Russian gas supplies to Romania were cut and Bucharest declared a state of emergency.
"Under the state of emergency, in current conditions, natural gas supplies to households will be without limits. Other customers must be, according to how the situation develops, ready for possible limits to supply,", said Economy Minister Adriean Videanu, adding that Romania has gas reserves for the next 60-80 days.
After two days facing outages, Serbia clinched a deal with Hungary on Thursday to buy gas from the reserves of its northern neighbour, averting at the eleventh hour a heating crisis. The gas was due to begin arriving in the afternoon.
Serbia's gas supply was cut off on Tuesday causing problems around the country but more seriously in the province of Vojvodina. Three thermal power plants in Novi Sad, the province's largest city, shut down, leaving some 80,000 people without heat in subzero temperatures. In the town of Pancevo near Belgrade, trucks carrying firewood were lining up in the city streets.
Natural gas accounts for 15 percent of Serbia's fuel use and the domestic production of one million cubic metre is barely enough to maintain the pipeline system.
The impact of the row was felt by businesses across the region. Maksteel, Macedonia's largest steel exporter, shut down and sent some 1,000 workers on forced leave. Bosnia's sole alumina plant Birac in the eastern town of Zvornik, halted production and steel maker Arcelor Mittal Zenica partially suspended operations.
The EU has appealed for an end to the blockade, while the U.S. accused Moscow of flexing its energy muscle to intimidate its neighbours.
"Cutting off these supplies during winter to a vulnerable population is just something that is unacceptable," said State Department spokesman Robert Wood said.