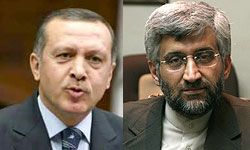 TEHRAN (FNA)- Iranian President Mahmoud Ahmadinejad's special envoy and Iran's Supreme National Security Council (SNSC) Secretary, Saeed Jalili, arrived in Ankara yesterday to hold official talks.
Jalili attended a meeting with Turkish Prime Minister Recep Tayyip Erdogan and was later received by President Abdullah Gul.
According to media reports, Jalili conveyed Ahmadinejad's message regarding the Israeli offensive on Gaza.
Israel waged war on the Gaza Strip on December 27 and began a "long-term" ground offensive on the Palestinian territory last Saturday.
Thus far, the Israeli aggression has killed 763 Palestinians and injured thousands of others – a large number of the casualties are civilians.