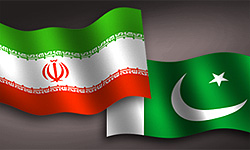 TEHRAN (FNA)- The historic and brotherly ties between Iran and Pakistan will strengthen with the passage of time, a Pakistani official said.
According to a handout on Wednesday, Punjab Chief Minister Mian Muhammad Shahbaz Sharif made the remarks in a meeting with Iranian Consul General Saied Kharazi at Chief Minister's Secretariat.
He said Iran supported Pakistan in every time of distress and Pakistanis considered Iran their second homeland, reiterating that there reside vast prospects for cooperation between Punjab and Iran in various sectors.
The Pakistani official further said cooperation between the two counties in various sectors was continuing, adding that agreements of economic cooperation between the two counties would not only strengthen economy of both sides but also help peoples to come closer.
He said currently Pakistan was facing energy crisis which was hitting industry, agriculture and other sectors, and pointed out that the Islamabad government was taking measures to resolve the issue.
Sharif noted Iran's expertise in generating energy from coal, and called on Tehran to provide cooperation to Punjab in this regard.
He said that there were also prospects for collaboration in the fields of generating energy from hydel power, agriculture, livestock and dairy development.
He said people of Punjab were waiting for the visit of governor of the northeastern Iranian province of Khorasan-e-Razavi and would accord him a historic welcome.
The official said that the visit would further strengthen economic, trade and cultural ties between Iran and Pakistan.
Earlier, Iranian Consul General Saied Kharazi noted the recent visit to Pakistan by Iranian deputy foreign minister, and said his meeting with PML-N the Chief Mian Muhammad Nawaz Sharif remained useful and he had invited Mian Nawaz Shairf to visit Iran.
He also said that the Governor of Iranian province Khorasan-e-Razavi would visit Punjab next week and his visit would help promote cooperation between the two provinces in various sectors.
He said the governor during his visit would also call on the office-bearers of Lahore Chamber of Commerce and Industry, adding that the delegates would also hold meetings with the secretaries of various departments of Punjab to review cooperation in various sectors, besides signing memorandum of understanding regarding cooperation between Punjab and Khorasan.
Punjab chief secretary, additional chief secretary, commissioner and capital city police officer were also present at the meeting.
Iran is helping Pakistan overcome its power deficit. Iran's Sunir company and Pakistan's Planet Energy Pvt Ltd signed a memorandum of understanding in early January for the joint development of a 50MW wind farm in Pakistan.
The MoU was signed by Managing Director of Sunir Co Reza Ebadzadeh and Chairman of the Planet Energy Pvt Ltd Tariq Sayeed and during the visit to Pakistan by a senior Iranian delegation led by Energy Minister Parviz Fattah.
As per the MoU, both companies would jointly invest in developing this wind farm.
This is considered as a significant development in Pakistan's renewable energy sector, especially wind, where a foreign company has shown willingness to invest in Pakistan under present circumstances.
The two countries are also wrapping up talks over a multi-billion-dollar pipelines which is due to take Iran's rich gas reserves to energy hungry Pakistan and India.
Tehran and Islamabad have agreed on a revised price formula and a new price review mechanism for Iranian gas that will be piped to Pakistan, a senior Iranian official said on Monday.
The new formula and review mechanism update terms reached in 2006 during the long-running negotiations on the project that are part of Iran's effort to become a major gas exporter.
Hojjatollah Ghanimifard, the Iranian oil minister's special representative to the pipeline talks, said both sides agreed to amend terms because of changes in the energy market since 2006.
He said agreement was reached after two days of talks in Tehran.
"We agreed that the formula should be changed," he told Reuters, adding that the price review formula was also amended.
"One of the changes (to the review formula)… was that a year before the commencement of delivery of the gas we are going to have a price review. Of course, this can be an option that either side can use," said Ghanimifard, who is also a senior official in the state-owned National Iranian Oil Company.
He said the changes have to be approved by the authorities in both countries, after which details would be announced.
This could lead to setting a date for signing a contract, he added.
"Almost five years after the contract is signed we hope that the commencement of gas delivery starts," he said.
India had been part of the $7 billion pipeline project, but stayed away from talks in September saying it wanted guaranteed security of supplies as the pipeline should go through a restive province in Pakistan.
Iran and Pakistan initiated a Gas Sales Purchase Agreement earlier this year.
On April 30, Ahmadinejad met Indian Prime Minister Manmohan Singh and said that the two sides had decided to address the issue in 45 days.
Indian and Pakistani officials also announced earlier this year that they had resolved almost all bilateral issues including transit fee which saw New Delhi boycotting IPI pipeline talks for about a year.
In June, Pakistan Foreign Minister Shah Mahmood Qureshi, who met New Delhi's Oil Minister Murli Deora said that the two sides have resolved all bilateral issues.
India has more or less agreed to give Pakistan a transit fee of $200 million per year, which is equivalent to $0.60 per million British thermal unit for allowing passage of the pipeline through that country.
India and Pakistan finally agreed in February 2007 to pay Iran $4.93 per million British thermal units ($4.67/GJ) but some details relating to price adjustment remained open to further negotiation. There was a breakthrough in the talks in April 2008 when Iranian President Mahmoud Ahmadinejad visited Pakistan and India.
According to the project proposal, the pipeline will begin from Iran's Assalouyeh Energy Zone in the south and stretch over 1,100 km through Iran. In Pakistan, it will pass through Baluchistan and Sindh but officials now say the route may be changed if China agrees to the project.
The gas will be supplied from the South Pars field. The initial capacity of the pipeline will be 22 billion cubic meter of natural gas per annum, which is expected to be later raised to 55 billion cubic meter. It is expected to cost $7.4 billion.
According to Indian ministry sources, the IPI gas pipeline is quite crucial for New Delhi as after signing of the agreement, 60 million standard cubic meters per day (mmscmd) of gas is expected to be supplied in phase-I, which will be shared equally between India and Pakistan.
In phase-II, 90 mmscmd of gas will be supplied to India and Pakistan. So far six meetings of the trilateral joint working group (JWG) of the participating countries have been held with the last meeting being held in New Delhi on June 28-29, 2007.
India, Asia's third-largest economy, can produce only half the gas it needs to generate electricity, causing blackouts and curbing economic growth. Demand may more than double to 400 million cubic meters a day by 2025 if the economy grows at the projected rate of 7 to 8 percent a year, according to the Indian oil ministry.
Iran plans to start exporting gas to Pakistan in 2011. Iran has completed half the pipeline, which can carry 110 million cubic meters of gas a day, National Iranian Gas Company (NIOC) said in April. India uses about 108 million cubic meters of gas a day, according to a BP Plc report.