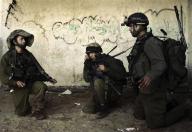 GAZA (Reuters) – Israel pushed ahead with its offensive in the Gaza Strip on Friday, ignoring a U.N. Security Council resolution calling for an immediate ceasefire to the 14-day-old conflict.
Israeli warplanes dropped bombs on the outskirts of the city of Gaza, residents said. Elsewhere, Palestinian medics said tanks shelled a house in Beit Lahiya in the north of the Gaza Strip, killing six Palestinians from the same family.
In New York, the Security Council passed a resolution urging an "immediate, durable and fully respected ceasefire," and for Israel to withdraw from Gaza after its two-week air-and-ground offensive. The United States abstained.
There was no immediate reaction from Israeli officials to the vote, but Israel opposed the idea of a binding resolution. Israel's military commanders appeared keen to pursue the ground offensive to try to secure more gains.
For its part, Gaza's Hamas rulers did not recognize the resolution as it had not been consulted on it, said a spokesman for the Islamist group.
The resolution, pressed for by Arab countries in the face of efforts by Britain, France and the United States for a more muted statement, called for arrangements to prevent arms smuggling into Gaza and for its borders to be opened.
It said there should be "unimpeded provision" and distribution of aid to the territory, home to 1.5 million people, many of whom are dependent on food assistance.
The U.N. Relief and Works Agency, which distributes the vast majority of aid in Gaza, kept its operations suspended on Friday after the death of one of its drivers in Israel's offensive. It was not clear when aid distribution would resume.
On Thursday, ambulance workers ventured onto the battlefield to gather decomposing bodies from the rubble. Hamas officials said the Palestinian death toll had risen to 773, of whom more than a third were children.
While the United States abstained from the U.N. resolution, Secretary of State Condoleezza Rice said Washington backed the text and had abstained only because it wanted to see the results of an Egyptian mediation effort.
"The United States thought it important to see the outcome of the Egyptian mediation efforts in order to see what this resolution might have been supporting," she said.
ROTTING CORPSES
In Gaza, local ambulance crews and the Red Crescent, using a time slot coordinated with Israeli forces, said they collected rotting corpses in places that had been too risky to reach since Israeli forces began their ground attack six days ago.
They found four children starving beside the bodies of their mothers and evacuated scores of trapped and wounded, the International Committee of the Red Cross (ICRC) said.
Israel lost three soldiers in combat with militants. Apart from a "friendly fire" incident which killed four, it was its heaviest one-day combat toll.
Ten soldiers have been killed in the campaign launched by Israel to crush Hamas forces and halt the firing of rockets from Gaza into Israel. Israel says it is doing what it can to avoid civilian casualties but accuses Hamas of deliberately placing its fighters close to homes and mosques.
About 20 rockets hit Israel on Thursday, fewer than at the start of the war but not the total halt it wants so that "quiet will reign supreme," as Prime Minister Ehud Olmert has said.
Rockets have killed three Israeli civilians since the offensive began. Olmert said Israel's goal had not been achieved and a decision on further military action lay ahead.
Aside from a three-hour ceasefire which Israel ordered for a second day to let Gaza civilians venture out, there was no let-up in fighting. Air strikes and ground attacks killed at least nine civilians and three gunmen, medical officials said.
The dead included two brothers aged six and 13, killed when an Israeli air strike missed a group of Islamic Jihad fighters.
Israel has said it accepts the "principles" of a ceasefire proposal by Egypt and the European Union, and Washington has urged the Jewish state to study details of the plan.
Hamas, shunned by the West for espousing violence, said it was still considering the ideas. But the militants say they will never accept Israel, whose establishment amid conflict 60 years ago dispossessed and uprooted Palestinian people.
European governments offered to back the plan with an EU border force to stop Hamas rearming via tunnels from Egypt. The deal would also address Palestinian calls for an end to Israel's economic blockade of the Gaza Strip.
The ICRC accused Israel of violating the rules of war by delaying ambulance access to the house where its team found children huddled beside corpses, not far from the Israeli army.
The Red Cross said the army must have known of the situation but did not help the wounded, in violation of international law.