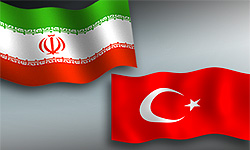 TEHRAN (FNA)- Turkish Minister of Agriculture and Village Affairs Mehmet Mehdi Eker and Iranian Ambassador to Ankara Bahman Hosseinpour in a meeting on Thursday discussed ways to expand cooperation in agriculture and animal husbandry.
At the meeting, the Iranian envoy offered to set up a joint agricultural commission to speed up the cooperation.
The Turkish minister underlined the importance of agricultural cooperation, which plays a principle role in deepening the two neighbor states friendship, the Islamic republic news agency reported.
"Turkey is prepared to cooperate with Iran in various fields of veterinary medicine," he added.
It was agreed to hold periodic meetings in the levels of ministers, deputy ministers, and experts annually, every 6 months, and every 3 months, respectively.
Iran and Turkey expect their bilateral trade volume to reach $20 billion annually in the next three years, MNA reported on May 9.
In a meeting with Turkish State Minister for Foreign Trade Affairs Kursad Tuzmen, Iranian Industries and Mines Minister Ali-Akbar Mehrabian said that Tehran and Ankara have great potential for cooperation in the energy sector, motor vehicle manufacturing, and the weaving industry.
Iran and Turkey can meet the needs of regional countries through close economic cooperation, the Iranian industries minister noted.