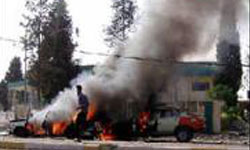 TEHRAN (FNA)- Director of the Traveler Insurance Department at Alborz Insurance Company Ali-Reza Mogharab said Friday that all Iranian victims of the recent suicide bombing in Iraq, who traveled to the country officially, had insurance coverage.
Mogharab said Alborz Insurance Company will pay reparations to those died or disabled in the wake of the incident, the Islamic republic news agency reported.
He said that since three years ago, all caravans officially traveling to Iraq receive life and incident insurance coverage 72 hours prior to leaving border and 72 hours after crossing the border into the country.