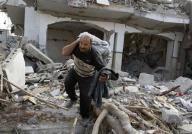 GAZA (Reuters) – Israel rejected a U.N. resolution calling for a ceasefire in the Hamas-ruled Gaza Strip on Friday and warplanes and tanks pounded the Palestinian enclave.
Israeli Prime Minister Ehud Olmert dismissed Thursday's binding Security Council resolution demanding an "immediate and durable" ceasefire in the two-week-old war as "unworkable."
Israel said Hamas fighters had fired at least 30 rockets into its territory on Friday. No casualties were reported.
Medics in Gaza said the Palestinian death toll had risen to 784. Ten Israeli soldiers have been killed, as well as three civilians hit by Hamas cross-border rocket fire.
Hamas officials in Gaza say they are weighing the U.N. resolution, but have voiced irritation they were not consulted.
The group said it had sent three of its leaders from Gaza to Cairo to discuss a separate Egyptian ceasefire proposal, but diplomats said Israel and Egypt were far apart on the plan.
"The firing of rockets this morning only goes to show that the U.N. decision is unworkable and will not be adhered to by the murderous Palestinian organizations," Olmert declared.
Israel's security cabinet debated for the second time in three days whether to send in reservists for a push into the Gaza Strip's towns and cities. There was no word on the outcome.
Mark Regev, Olmert's spokesman, declined to say whether the ministers had decided to expand the ground operation.
"I can't go into operational details. The military pressure on Hamas will continue," Regev said.
WHITE HOUSE BLAMES HAMAS
The United States, which abstained in the U.N. vote, offered further public support for Israel's military goals.
"This situation will not improve until Hamas stops lobbing rockets into Israel," White House spokesman Scott Stanzel said.
He also said President George W. Bush had voiced his concern to Olmert about the humanitarian situation and the loss of civilian lives during the Israeli assault on the Gaza Strip.
Israel's air force said it hit more than 50 targets overnight. As fighting on the ground went on through the day, Palestinian medics counted at least 19 dead, including civilians.
With the Palestinian civilian death toll already in the hundreds, Israeli actions have drawn outraged denunciations from the Red Cross, U.N. agencies and Arab and European governments.
A U.N. agency said in a report that 30 Palestinians were killed on Monday, a day after the Israeli army herded dozens of civilians into a house which was later hit by shells.
An Israeli military spokesman denied that account.
"The IDF (Israel Defense Forces) did not mass people into any specific building," Major Jacob Dallal said, adding that the military had not hit a building in the area on Monday.
U.N. High Commissioner for Human Rights Navi Pillay urged independent investigations into this and other incidents, saying they "display elements of what could constitute war crimes."
Dallal also denied an accusation by UNRWA, the main U.N. aid agency for Palestinians, that Israeli fire had killed a driver in a clearly marked UNRWA convoy. The agency suspended some operations in Gaza after the driver's death on Thursday.
"The IDF did not shoot at that truck, period," Dallal said.
U.N. aid workers plan to resume their movements in Gaza as soon as possible after receiving Israeli assurances that they are not being targeted, a U.N. spokeswoman said in New York.
CEASEFIRE PLAN BOGS DOWN
Hamas wants any ceasefire deal to include the ending of Israel's crippling economic blockade of the Gaza Strip and the withdrawal of all Israeli forces from the territory.
Israel's key demands are for a complete halt to Hamas rocket fire and for international guarantees to stop the Islamist group rearming via smuggling tunnels under the border with Egypt.
Regev said talks with Egypt over the ceasefire proposal would continue, but he did not say when.
The Egyptian initiative, also sponsored by French President Nicolas Sarkozy, may be in trouble, however.
"There is a growing sense that the Egyptian-French plan is not going to work," a senior European diplomat told Reuters.
European and Israeli diplomats said Egypt was objecting to proposals that foreign troops and technicians be stationed on its 15-km (9-mile) border with Gaza to prevent arms smuggling.
Instead, diplomats said, Egypt was ready to accept technical assistance for its own forces on the border. Israel says the Egyptians have failed in the past to prevent Hamas building up an arsenal of hundreds of Soviet-designed Katyusha missiles.
The onslaught in Gaza, where many civilians including children have been killed, has solid support among Israelis, one month before a parliamentary election. A poll on Friday showed over 90 percent support among Israel's Jewish majority.
It showed that Defense Minister Ehud Barak's Labour party has held on to sharp gains it has made since the war began, but still trails Foreign Minister Tzipi Livni's Kadima.
Kadima is running close behind the right-wing Likud opposition, whose leader, Benjamin Netanyahu, supports the war.
Palestinians in the occupied West Bank, governed by Hamas's rival Fatah movement, have been enraged by the Gaza war, but there were only minor clashes around Friday prayers at mosques.
Several thousand people demonstrated and burned Israeli flags in Hebron, a Hamas stronghold in the West Bank.
For the third day running, the Israeli army held fire in the afternoon to let Gazans stock up on food and other supplies.
The U.N. resolution called for "unimpeded provision" and distribution of aid to Gaza, home to 1.5 million people, as well as measures to halt arms smuggling and open the borders.