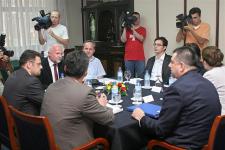 The leaders of Macedonia's four main political parties agreed on March 22 as the date for holding presidential and local elections, seen as a test for the country's democratic credentials.
Prime Minister Nikola Gruevski, leader of the ruling centre right VMRO DPMNE party, told local media that parliament speaker Trajko Veljanovski has the final word, and the government would halt its various media campaigns the moment the date for election is set by him formally.
The opposition leader, Zoran Zaev, acting head of the Social Democrats, noted that more talks would be necessary to overcome the overcome the current friction and public bickering between the two main ethnic Albanian parties that threatens to jeopardize the polls.
"If we want the elections to be properly held and verified by the international community, a lot of meetings lie ahead in order to iron out the positions of Albanian parties", Zaev said.
The June 2008 general election was marred by violence and allegations of vote-rigging in ethnic Albanian areas, earning Macedonia a partly negative report by monitors.
The irregularities were mentioned later in the year in the European Commission report on the country as one of its biggest shortcomings, and along with the long-standing name dispute with Greece, this assessment contributed to Macedonia not getting a recommendation for the start of its EU accession talks.Brussels will be looking closely at the spring polls hoping for a free and peaceful vote.
EU diplomats have been quoted as telling local media that if the elections are held on March 22 without violence and irregularities, Macedonia could reap the benefits at the informal EU ministerial meeting on the Western Balkan on March 27-28 just days after the polls.
"Significant progress has been made at the meeting in ensuring that the upcoming polls be peaceful" ,the vice president of the ruling ethnic Albanian Democratic Union for Integration, Xhevad Ademi told media after the meeting.
The leader of the main ethnic Albanian opposition party, the Democratic Party of Albanians, Menduh Thaci, was more restrained. He only confirmed the agreed date and said the DPA will assign the first chair of the newly-formed lustration commission, that should determine whether any of the candidates was a secret services informant in the past.
As part of further efforts to preempt allegations of vote-rigging, Macedonia's parliament on Friday adopted a constitutional amendment lowering the required minimum turnout for the election of the next president to 40 percent in the second round, from a previous 50 percent.
All 86 MPs present in the 120-seat parliament supported the motion. At the last presidential election in 2004, the ruling VMRO-DPMNE party leaned on the low turnout to dispute the election of Branko Crvenkovski.