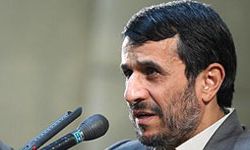 TEHRAN (FNA)- Iran's president here on Saturday strongly condemned the performance of the United Nations in dealing with the horrific crimes of the Zionists in Gaza and called for a fundamental change in the United Nations Security Council (UNSC).
Speaking to Basiji (voluntary forces) staff of the Presidential office on Saturday, President Mahmoud Ahmadinejad said both structure and the venue of UNSC should be changed.
Unilateral and inhuman decisions made by the UNSC are worthless for world nations, he said.
It is quite obvious that the UN cannot carry out its duties properly because if someone wishes to go to the UN, he or she should wait about three months to get visa from the US, he underlined.
The Islamic Republic of Iran is ready to allocate a suitable place for the United Nation headquarters, the president suggested.
The UN was created to establish security and defend the independence and freedom of nations, he said, adding that a number of prominent leaders including the late Imam Khomeini were opposed to establishment of the UN by hegemonic powers.
UNSC has been turned into a tools in the hands of the US to pursue its goals, he said, adding that the United Nations has been restricted to the UNSC which is under influence of the US which spares no efforts to back the Zionists.
The UN should undergo a fundamental change in order to defend the rights of nations, he said.