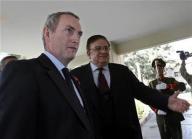 LONDON (Reuters) – Britain urged its European NATO partners on Thursday to step up their military contribution in Afghanistan, saying it was wrong to expect the United States to do the lion's share of the fighting.
In Britain's strongest criticism yet of the effort its European allies are putting into the fight against the Taliban, Defense Secretary John Hutton said everyone in NATO had to "step up to the plate."
"We need a full complement of effective forces and we don't have those in theater at the moment. We don't have the right logistics, we don't have the right support package. So we've got to step up to the plate, everyone in NATO has got to do that," he told a news conference.
Calling the Afghan conflict a defining issue for NATO, Hutton said it was "not honest, credible or sustainable for us constantly to say the Americans can do it all. That isn't an alliance, that's one-way traffic, that's not good enough."
In a subsequent speech to a conference, Hutton spoke out against "freeloading on the back of U.S. military security."
He made clear his words were aimed at European NATO members.
U.S. President-elect Barack Obama, who takes office on Tuesday, has pledged more forces for Afghanistan to tackle insurgent violence, at its highest level since U.S-led forces toppled the Taliban in late 2001.
Up to 30,000 U.S. troops are expected to be deployed there in the next 18 months, nearly doubling the U.S. contingent.
Britain has the second largest foreign force, with more than 8,000 troops, more than twice as many as France, Germany or Italy.
U.S. PRESSURE
Britain, which is set to withdraw almost all its troops from Iraq by the end of July, is expected to come under pressure from Obama to send more soldiers to Afghanistan.
One NATO diplomat in Brussels said Hutton appeared to be preparing British public opinion to face fresh commitments in Afghanistan. "This is something Britain has to do before Obama goes public and says: 'European allies, you have to do more'," the diplomat said.
Hutton said it was premature to say whether Britain would commit more troops, saying discussions were still going on.
British forces have been involved in heavy fighting in southern Afghanistan. Two more British soldiers died in an explosion there on Wednesday, bringing the number of British troops killed there since 2001 to 141.
The government insists the Afghan mission is vital to British national security, but the public is skeptical. An ICM poll for the BBC in November said two-thirds of Britons wanted British troops to withdraw from Afghanistan within a year.
NATO leaders, and the United States, have repeatedly called on European allies to commit more forces and to drop restrictions on the way troops can be used in Afghanistan.