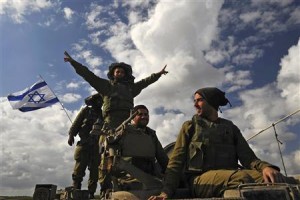 GAZA (Reuters) – Hamas said on Sunday it would cease fire immediately along with its Islamist allies in the Gaza Strip and give Israel, which already declared a unilateral truce, a week to pull its troops out of the territory.
A spokesman for Israeli Prime Minister Ehud Olmert said in response: "We'll play this day by day. We'll see how this goes. We want to leave Gaza. We'll do so as soon as we can."
Troops and tanks had streamed back over the border since dawn and the army later confirmed it had begun withdrawing after a three-week war in which 10 Israeli soldiers and over 1,300 Palestinians were killed. Three Israeli civilians also died.
In Gaza, families began emerging from their places of hiding, including U.N. school compounds where some 45,000 people sought refuge during the fighting, and returning to their homes — some only to find them damaged or destroyed.
Hamas, whose rocket fire Israel said triggered its assault, announced its ceasefire about 12 hours after Israel's own unilateral move. Hamas also said Israel, which launched its offensive on December 27, had a week to pull its troops from Gaza.
Hamas officials, in Cairo for talks with Egypt on resolving the 22-day conflict, also said the movement was demanding the opening of all Gaza's border crossings for the entry of "all materials, food, goods and basic needs."
The Islamist group said previously it would not stop its attacks as long as Israeli soldiers remained in the Gaza Strip.
With no formal deal between the two sides, despite mediation efforts by Egypt, the situation looked much like that before the conflict — an armed standoff and a grim future for 1.5 million people penned inside Gaza by a blockade aimed at punishing Hamas for its rocket fire and ambitions to destroy the Jewish state.
As scores of bodies of Hamas fighters were recovered from suddenly quiet urban battlefields on Sunday, Gaza medical officials said about 700 of the 1,300 dead were civilians.
Israel's leading newspapers put pictures of victorious Israeli troops on their front pages on Sunday, but behind the banner headlines some commentators wondered whether the conflict had not worsened the prospects for peace with Gaza.
"This war was a just war," wrote one leading commentator in Ma'ariv, a right-of-center tabloid. "But this was not a wise war. This war presumed to change the situation … But the situation, regrettably, will change only for the worse."
Some 17 rockets hit southern Israel after the ceasefire Olmert declared went into effect at 2 a.m. (7 p.m. EST). Israel responded with two air strikes against launching sites and medical workers said a Palestinian civilian was killed.
At least three rockets struck southern Israel after Hamas said it was halting attacks, Israeli police said.
Despite those breaches, the United States welcomed the ceasefire and the United Nations expressed its relief.
"The goal remains a durable and fully respected ceasefire that will lead to stabilization and normalization in Gaza," said Secretary of State Condoleezza Rice.
A spokeswoman for President-elect Barack Obama said he welcomed the truce and would say more about the situation in Gaza after he is inaugurated on Tuesday.
EGYPT MEETING
In Jerusalem Olmert's spokesman, Mark Regev, offered hope that crossings into Gaza would open if the truce persists:
"If this ceasefire holds, and I hope it does, you'll see the crossings open to an enormous amount of humanitarian support."
In the Egyptian resort of Sharm el-Sheikh, the leaders of Britain, the Czech Republic, Egypt, France, Germany, Jordan, Spain and Turkey, along with U.N. Secretary-General Ban Ki-moon, met to coordinate policy on the Israeli-Palestinian conflict.
They gathered to back Egyptian efforts to turn a shaky ceasefire into a solid agreement leading to Israeli withdrawal.
Many were later due to dine with Olmert in Jerusalem.
In the northern Gaza Strip town of Beit Lahiya, Palestinian ambulances picked up more than 95 bodies, most of them gunmen, that had lain in the rubble of buildings and open areas, Hamas police and health officials said.
Some of those who returned to their homes were distraught to find them destroyed on Sunday, but there was also hope.
"Thank God you are alive!" Abu Daoud Amer consoled a friend. "The house can be rebuilt, God willing."
The civilian death toll and destruction in the Gaza Strip brought strong international pressure on Israel to stop the offensive it launched with the declared aim of ending rocket attacks that had killed 18 people over the previous eight years.
Olmert said on Saturday that Israel would not bring its troops home until Hamas ceased fire completely and he threatened to respond strongly to any attacks on the soldiers or cross-border rocket salvoes.
He cited internationally backed understandings with Egypt, Gaza's southern neighbor, on preventing Hamas from rearming through smuggling tunnels as a reason behind Israel's decision to call off its attacks.