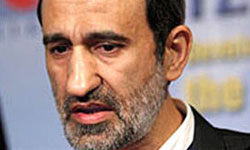 TEHRAN (FNA)- Iran has informed 21 Asian and European customers that it will reduce oil sales to them.
"Twenty-one Asian and European companies have been told that there will be a cut in part of their oil intake level proportionate to their contracts," Iran's representative to the Organization of the Petroleum Exporting Countries (OPEC) Mohammad Ali Khatibi said in comments published by Iranian newspapers on Sunday.
Khatibi also said that Iran would curb spot crude sales.
The move is seen as part of efforts to comply with OPEC's decision to cut output to halt sliding prices.
Iran said in late December it would lower oil output from January 1 by 545,000 barrels per day in line with OPEC's decision to reduce production by a record 2.2 million bpd from January, in addition to the group's earlier agreed cuts of 2 million bpd.
The report, originally carried by MNA, did not give any figures or name the companies affected and did not say how many of them are Asian or European.
The Iranian OPEC governor had earlier said that the oil cartel should reduce output further in an effort to bring balance to the market and shore up prices.