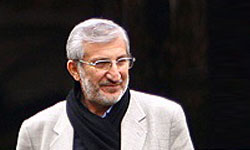 TEHRAN (FNA)- Iran's Minister of Housing and Urban Development Mohammad Saeedi-Kia conferred with Yemeni Minister of Public Works and Roads Umar al-Kurshomi on further expansion of bilateral ties and mutual cooperation.
The talks dealt with aspects of reinforcing bilateral cooperation between the two countries, particularly in areas of public works, housing and urban development.
At the meeting, the Yemeni minister voiced his country's interest in expanding all-out ties with Iran, stressing that Sana'a attaches much significance to Iran's experience in the housing sector and seeks to benefit from such an experience.
Noting the latest developments in the public works and housing sectors, he called for Iran's investment in the Persian Gulf country, particularly in light of the facilities provided by the Yemeni government for foreign investors.
The Iranian minister, for his part, highlighted the depth in relations between the two Muslim countries, and voiced Tehran's preparedness to invest in Yemen, specially in the field of housing.
He also praised the facilities provided by the Yemeni investment law to attract investors in various fields.
Saeedi-Kia further extended an invitation to the Yemeni minister to pay a visit to Iran to be briefed about Iran's experience in the field of housing and to discuss mechanisms to promote joint cooperation between the two sides in this field.