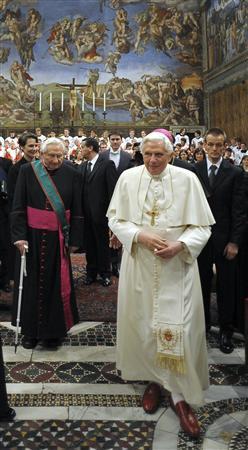 VATICAN CITY (Reuters) – Pope Benedict, in his strongest comments yet on the situation in Gaza, on Sunday condemned the violence that has killed hundreds of "innocent victims."
Speaking at his weekly Sunday noon prayer, the pope also asked his listeners in St Peter's Square and around the world to pray for the success of all efforts "to end the tragedy" and bring about lasting peace.
"Let us remember to the Lord today the hundreds of children, elderly, women who have fallen as innocent victims of unheard of violence, (as well as) the wounded, those who are mourning their loved ones and who have lost their possessions," he said.
The pope did not specifically mention either the Israeli or Palestinian side in the conflict but said he wanted to encourage those who believed that "there is room for everyone in the Holy Land."
Israeli attacks have killed more than 1,200 Palestinians — including some 700 civilians. Ten Israeli soldiers and three civilians hit by rockets have been killed.
Hours before the pope spoke, Palestinian militants in the Gaza Strip launched rockets into southern Israel in defiance of the unilateral ceasefire that Israel declared hours earlier and which the Islamist group Hamas has pledged to ignore.