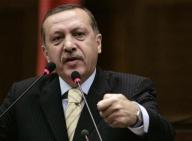 ANKARA (Reuters) – Turkish Prime Minister Tayyip Erdogan flies to Brussels on Sunday for a visit aimed at boosting the Muslim country's troubled bid for European Union accession.
Erdogan's trip, his first to Brussels in four years, comes as Ankara faces EU pressure to speed up reforms in a decisive year, and amid questions over its commitment.
EU officials say privately that Turkey, which began accession talks in 2005, may face a deadlock if progress is not made this year, while analysts warn that trust is ebbing away and that the two sides must rebuild momentum.
"2009 is a decisive year. The political commitment has to be very clear this year," said Hugh Pope, an analyst from the International Crisis Group.
DOUBLE STANDARDS
Turks accuse Europeans of double standards and polls show support for the EU is dwindling as nationalism rises.
EU states, likewise, are divided about accepting Turkey.
Powerful states such as France and Germany are not keen to see Turkey join the bloc, questioning the European credentials of the poor, Muslim country of 70 million people.
Erdogan will be accompanied during his three-day visit by Egemen Bagis, Turkey's first full-time EU negotiator, whose appointment last week was seen as a sign that Ankara might be willing to push long-delayed reforms.
But Erdogan, who has been criticized for his lack of presence on the European scene, will also face an increasingly skeptical Europe over Ankara's commitment when he meets European Commission President Jose Manuel Barroso and other EU leaders.
The EU wants Ankara to reform its constitution, improve free speech, grant more rights to minorities and curb the power of the army. Turkey has pledged many times that it is determined to complete talks, but Brussels wants deeds, not words.
Recent moves such as launching a Kurdish language channel on state television have rekindled hopes of a new reformist spirit in Ankara, but painful and unpopular reforms are long overdue.
Rising tension between the ruling Islamist-rooted AK Party and the secularist establishment, and municipal elections in March are likely to dominate the domestic agenda, observers say.
Turkey has opened talks on 10 out of the 35 so-called negotiation chapters, of which it has provisionally completed negotiations on just one.
The bloc has frozen eight chapters in Turkey's accession talks because of Ankara's refusal to open its ports and airports to Greek Cypriots. The European Commission has set a mid-December deadline for Ankara to open its ports to Cyprus.