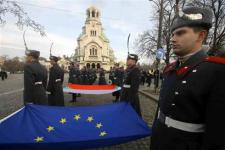 The Vice President of the European Commission and Commissioner for Justice, Freedom and Security Jacques Barrot criticized Bulgaria's judiciary during an official visit to Sofia on Tuesday, local media reported.
Barrot, accompanied by Bulgaria's European Commissioner for Consumer Protection, Meglena Kuneva, told reporters "your judiciary system is producing very few positive results."
Barrot added that the effectiveness of the fight against organized crime depended on the effectiveness of the judiciary system.
"There is some movement in Bulgaria, but the real reforms are still upcoming," the EC Vice-President stated.
Barrot's main objections towards Bulgaria included its obsolete penal code and the fact that very few trials leading to serious and real convictions for the mafia bosses or for corrupted individuals.
"Organized crime is poison; the mafia is an obstacle to the development of the economy. Your task is very difficult since deep reforms cannot be achieved in one day," Barrot said.
The EC Vice-President further noted that according to the 2008 data of "Transparency International", Bulgaria ranked 72nd in Europe for its institutions' commitment to fighting corruption, while Denmark and Finland took the leading positions.