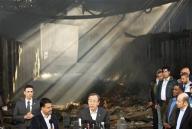 GAZA (Reuters) – U.N. Secretary-General Ban Ki-moon, voicing shock and anger at the "heartbreaking" devastation, visited the Gaza Strip on Tuesday to pledge aid for Palestinians after Israeli attacks killed 1,300 and made thousands homeless.
Israel had withdrawn most of its force before U.S. President Barack Obama was inaugurated — Israeli leaders seemed eager not to cloud the start of a new era in a key alliance. Obama's predecessor George W. Bush endorsed Israel's right to defend itself against rocket fire by Gaza's ruling Islamists.
Since a ceasefire, though nothing like a peace accord, took hold on Sunday, Hamas has demonstrated it remains in charge in the coastal enclave. It held "victory" rallies to coincide with Ban's visit. Some speakers urged him and Western powers to end their boycott of Hamas, which won the last Palestinian election.
"I have seen only a fraction of the destruction. This is shocking and alarming," Ban said, condemning an "excessive use" of force by Israel as well as Hamas's rocket fire into Israel.
"These are heartbreaking scenes I have seen and I am deeply grieved by what I have seen today," he told a news conference held against a backdrop of still smoldering food aid in a U.N. warehouse set ablaze by Israeli gunfire last Thursday.
Ban called the attack "outrageous" and demanded an inquiry and, if need be, the guilty to be held to account.
Israel blames Hamas for fighting around civilians and sites run by the United Nations, which provides support for much of the 1.5 million population. Most are from families of refugees who fled or were forced from homes in what became Israel in 1948.
Ban, on a Middle East tour, was the most senior diplomatic figure to visit the territory in years, certainly since Hamas routed secular Fatah forces loyal to Western-backed Palestinian President Mahmoud Abbas and seized control of Gaza in June 2007.
Later, visiting a southern Israeli town that for years was a target for militants in Gaza, he called the Palestinian rocket fire at the Jewish state "appalling."
BAN CALLS FOR PALESTINIAN UNITY
Although aid agencies said they planned a massive inflow of supplies to Gaza's people through Israeli crossings, help will be complicated by the Western boycott of Hamas as a "terrorist" organization and an Israeli blockade on many items, including building materials, that can be used to make weapons.
So Ban urged the Palestinians to patch up their political differences within Abbas's Palestinian Authority in order to realize their hopes of statehood and make peace with Israel.
"I appeal to Fatah, Hamas, to all Palestinian factions, to reunite within the framework of the legitimate Palestinian Authority," Ban said, urging an end to a schism between Hamas in Gaza and Abbas in the West Bank that has paralyzed peace talks.
Thousands of Hamas supporters, many waving green Islamist banners, marched through Gaza and held a rally outside the compound during Ban's visit. Speakers demanded U.N. recognition.
"The Hamas government was elected by popular vote," one said. "We demand an end to double standards."
The United Nations, with other key mediators in the Middle East, say they will only deal with Hamas if it recognizes Israel, renounces violence and accepts interim peace deals.
Israeli leaders hope the devastation wrought on Gaza will undermine Hamas's popularity. There is some sign of impatience.
Watching the rally outside buildings marked by the latest war, Wael Eid said: "Hamas overestimated its own strength … and brought this greater destruction.
"We've been let down by everyone in the world, so now we should seek a peace settlement with Israel."
TROOP WITHDRAWAL
An Israeli security source said much of the pullout was completed as planned, before Obama's inauguration, though some forces remained inside the enclave. Analysts saw the withdrawal as an effort to avoid any tension with the new president.
Many Palestinians returned to the rubble of what used to be their homes in Gaza city suburbs that were hard hit during the fighting. They picked through debris, salvaging belongings.
"We've won the war, but we've lost everything," said Nabil Sultan, commenting on Hamas's "V for Victory" signs as he surveyed the rubble of his home on the city outskirts. "This was my house," he shrugged, beside a pile of smashed concrete.
Two children were killed by bombs left behind in Gaza, Hamas officials said. There were scattered and contradictory reports of occasional firing but no clear breach of the ceasefire.
Ban, who met Israeli Prime Minister Ehud Olmert before traveling to Gaza, later visited southern Israel, an area hit by Palestinian rocket fire for years. At Olmert's office, Ban said he wanted to help to make the ceasefire "durable."
Gaza medical officials said the Palestinian dead included at least 700 civilians. Israel says hundreds of militants died.
The United Nations has estimated some $330 million is needed for urgent aid. Reconstruction, if it can be launched in light of the frost between Hamas and the West, may cost close to $2 billion, according to Palestinian and international estimates.
The U.N.'s nuclear watchdog said on Tuesday it would look into a claim by Vienna-based Arab ambassadors that Israel may have used ammunition containing depleted uranium in Gaza attacks.
Israel said it hoped to more than triple the number of trucks delivering supplies to about 500 a day.