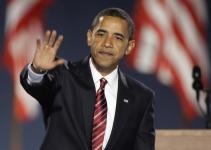 President Barack Obama is well informed about Albania and the region, the US ambassador in Tirana, John L Withers, said in an interview aired on Tuesday.
Withers told TV Klan that he had a chance to talk to the than Senator of Illinois, at the time of his confirmation hearing as ambassador in Albania.
"It was very clear that he had a knowledge of Albania and the region and I think that is very important," said Withers.
According to Withers, one of Obama's key priorities in foreign policy will be to re-establish America's leadership in the world. 
"[Obama] has a great vision for the world, and through this he will strengthen America's leadership… using diplomacy and the free exchange of ideas, and as the base of it all will be democracy," he said.
"For Obama, democracy is what made him… and one of its biggest symbols is that this man stood on the steps of Capitol Hill taking his oath for the most powerful office in the US-on the steps of a building built by slaves," Withers added.