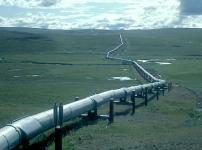 The import of Russian natural gas resumed Wednesday morning, after it was halted for two weeks, Romania's state-owned pipeline operator Transgaz said.
Russia's Gazprom cut off natural gas supplies on January 7 due to economic disagreements with Ukraine.
Ukraine is the main transit route for Russian gas pipelines to the European Union, which relies on Moscow for about a quarter of its supply and has been accused of siphoning off gas destined for other European customers.
Romania was not affected too much by the gas crisis as the Balkan country had gas reserves for almost three months. Romania's monthly demand during winter season is estimated at 19 million metric cubes, with almost 80 per cent coming from domestic output and 20 per cent from imports from Russia