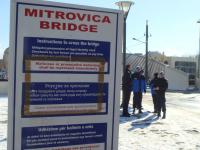 Two explosions caused material damage in the ethnically divided town of Mitrovica in north Kosovo on Saturday night, police said.
Mitrovica — divided between Serbs in the north and Albanians in the south — has been the scene of protests, occasional clashes and bomb attacks since Kosovo's Albanian majority declared independence from Serbia last February.
The Saturday explosions took place in the mixed neighbourhood of Tri Solitera, damaging windows in an apartment block.
"The police contacted the residents of the area who said one explosion was heard around 20:00 and the second around 21:00 on January 24", Kosovo police said, adding that an investigation was ongoing.
European Union police and peacekeepers from the NATO-led KFOR force had secured the area. Tensions ran high in the town in late December and early January, when Serbs torched Albanian-owned shops in retaliation for the stabbing of a Serb teenager by an Albanian.