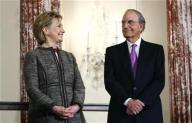 WASHINGTON (Reuters) – President Barack Obama vowed on Monday that his new Middle East envoy George Mitchell would engage vigorously in the quest for Israeli-Palestinian peace and expressed confidence he would achieve concrete results.
Wading quickly into Middle East diplomacy, Obama dispatched Mitchell, a veteran international trouble-shooter, to tackle a conflict the new president's predecessor George W. Bush had been widely criticized for neglecting for much of his tenure.
"The cause of peace in the Middle East is important to the United States and our national interests. It's important to me personally," Obama said after a White House meeting with Mitchell, who was due to head to the region later on Monday.
"The charge that Sen. Mitchell has is to engage vigorously and consistently in order for us to achieve genuine progress. When I say progress — not just photo ops but progress that is concretely felt by the people on the ground," Obama told reporters.
Mitchell, a former U.S. senator and a mediator who helped to resolve the Northern Ireland conflict, was named by Secretary of State Hillary Clinton last week to lead U.S. efforts to end the six-decade Arab-Israeli conflict.
His weeklong trip, which will take him to Egypt, Israel, the West Bank, Jordan, Saudi Arabia, France and Britain, is aimed at shoring up a fragile ceasefire that ended Israel's 22-day offensive against Hamas in the Gaza Strip and reinvigorating the stalled peace process.
Critics faulted the Bush administration for what they viewed as its relative disengagement from Israeli-Palestinian peacemaking until its last year, when a U.S.-backed effort to strike an agreement by the end of 2008 failed.
Obama has made clear the Middle East conflict will be a high priority as he tries to repair a U.S. image battered by the war in Iraq and the Bush administration's perceived "cowboy diplomacy."
NO OVERNIGHT SOLUTION
Obama has made a deliberate effort to show he is engaged from the start, telephoning Arab and Israeli leaders on his first full day in office on Wednesday and attending the announcement of Mitchell's appointment at the State Department a day later.
"It is not something we're going to be able to do overnight, but I am absolutely confident that if the United States is engaged in a consistent way and in an early fashion, that we could make genuine progress," Obama said.
Israeli Prime Minister Ehud Olmert, speaking to world Jewish leaders in Jerusalem, said he looked forward to meeting Mitchell to discuss ways to move forward Palestinian statehood talks.
The State Department ruled out Mitchell having any contact with Hamas, the Islamist group that rules Gaza and that the United States regards as a terrorist organization.
Israel launched its offensive in Gaza in late December with the declared aim of ending Hamas rocket attacks on its southern communities. About 1,300 Palestinians, at least 700 of them civilians, were killed during the offensive, while Israel put its death toll at 10 soldiers and three civilians.
Mitchell will also seek to address humanitarian needs of the 1.5 million Palestinians who live in Gaza and to speed the reopening of border crossings into the area, which Hamas seized control from the Palestinian Fatah faction in June 2007.
A U.S. official said Mitchell will leave for Cairo on Monday and will hold meetings in Israel and in the West Bank on Thursday and Friday. On Saturday he will visit Jordan before flying to Riyadh, where he will have talks on Sunday.
He then travels to Paris and London before returning to Washington on February 3 to brief Clinton and Obama.