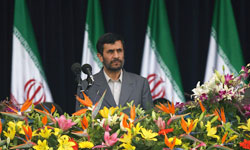 TEHRAN (FNA)- Iranian President Mahmoud Ahmadinejad called on the new US administration to extend an apology to Tehran if it really intends to put Obama's campaign slogan of "change" into practice.
"The people who want to make changes in the US should apologize to the Iranian nation and compensate for their crimes against the Iranians" Ahmadinejad said during his tour of the western Iranian province of Kermanshah on Wednesday.
"We welcome change provided that it will be fundamental and in the correct direction, otherwise the world should know that if any one even with new words but with Mr. Bush's literature, spirit and aggressiveness wants to speak with Iranians, their response is the one they have stressed for years," he added.
Ahmadinejad further noted inauguration of the new US administration, and stressed, "The fact that a new administration with the slogan of 'change' has come to power and said that it wants to change US policies is good as Mr. Bush's policies were inhumane, immoral and alien to the prophets' teachings."
"They say we want to make changes but change can occur in two forms: One form is basic change and the other form is tactical change and changing the words they use which is political warfare," the Iranian president said.
Noting that change means not interfering in other countries affairs, he reiterated, "Mr. Bush humiliated the US nation, wiretapped their phone calls and did whatever he wanted (to do) without soliciting them."
A real change, Ahmadinejad said, is a change in policies which means "removing pressure from the American people and allowing them to freely decide about their fate".