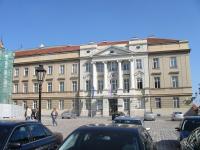 Croatia is the most globalised country in the Balkans, and Serbia the least, according to the Index of Globalization 2009, that each year measures the economic, social and political scope of globalization in 208 countries and territories.
The report is compiled by the Zurich-based KOF Economic Institute. The economic dimension of the index measures flows of goods, capitaland services. The social dimension measures the spread of ideas, information, images, and people, while the political dimension captures diffusion of government policies.
Aside from EU-member Slovenia, Croatia is the highest ranking state in the broader Balkan region, coming in at 25th place. Greece is 32nd, Bulgaria 39th, Bosnia 43rd, Macedonia 89th, Albania 103rd, while Montenegro and Serbia trail at 190 and 197 respectively.  
Belgium and Ireland are the world's most globalized countries, followed by the Netherlands, Austria and Sweden. On the bottom of the 2009 general ranking is the West Bank and Gaza, while Montenegro comes last at the idex of Political Globalisation.