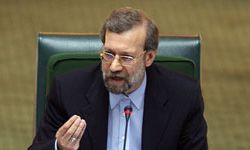 TEHRAN (FNA)- Iranian Parliament Speaker Ali Larijani on Wednesday warned UAE to revise its attitude regarding fingerprinting of Iranian citizens.
"UAE should know that the parliament's demand about their attitude is serious," Larijani said, adding that the Iranian lawmakers are angry to observe the UAE's improper handling of Iranian incomers while the two countries have a huge volume of trade exchanges.
Following reports in recent months of fingerprinting Iranian citizens at UAE airports, Iranian lawmakers called on the government to voice Tehran's strong protest and adopt possible measures to reciprocate the action.
The Iranian foreign ministry has announced that it would reciprocate the move with fingerprinting UAE citizens at Iran's airports.
Earlier a senior Iranian legislator announced that Iran plans to stop the flush of its capital into the UAE and redirect its investment funds to Turkey following the fingerprinting of its citizens by the Arab Persian Gulf state.
"Fingerprinting of UAE citizens and citizens of any other country which humiliates Iranians must continue vigorously," Javad Karimi Ghoddousi, a member of the Iranian parliament's National Security and Foreign Policy Commission said.