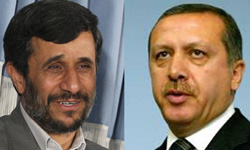 TEHRAN (FNA)- Iranian President Mahmoud Ahmadinejad on Saturday congratulated Turkish Prime Minister Recep Tayyip Erdogan on taking a stand over Israel on Thursday at the World Economic Forum in Davos.
Erdogan tried to respond to a 25-minute defense of Israeli military operations in Gaza by President Shimon Peres, but when after about a minute he was told he could not speak as it was time for dinner he walked out of the prestigious conference.
"Don't interrupt me. You are not allowing me to speak," he told the moderator, adding, "I will not come to Davos again."
He was given a hero's welcome when he returned to Turkey from Switzerland.
"The act of the Turkish prime minister reflects expectations of all Turkish people, the nations of the region and the entire world. We appreciate it. He behaved exactly how he should have behaved in that situation," Ahmadinejad told journalists.
The Iranian president noted the Israeli government's war crimes in Gaza and declared that no aim could justify the killing of Palestinian civilians.
In Tehran on Saturday a group of protesters rallied outside the Turkish Embassy in support of Erdogan's actions. They chanted anti-Israeli and anti-American slogans, and some schoolchildren in the crowd carried flowers.
The new US envoy to the Middle East, George Mitchell, is due to meet Erdogan in Turkey on Sunday.
Israel's recent military operation in Gaza killed some 1,400 Palestinians. Over 50,000 people were also left homeless in the enclave of 1.5 million. Israel's casualties in the conflict were put at 13, including 10 military personnel, while over 5,500 Palestinians have been wounded.