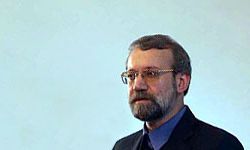 TEHRAN (FNA)- Iran's Parliament Speaker Ali Larijani invited Turkish counterpart Koksal Toptan to take part in a parliamentary conference to be held soon in Tehran on support for Gaza's resistance.
In a phone conversation on Monday Larijani referred to the recent efforts to end Zionist regime's attacks over Gaza and said Israel has still kept the defenseless people of Gaza under siege and their problems have not been solved yet.
He also called for more impressive measures to get Palestinians out of the current humanitarian catastrophe in Gaza, the Iranian students news agency reported.
Larijani then called for continuing consultation with regional and cross-regional countries and said Iran has always defended the goals of Palestine and resistance against Zionist regime's endless crimes.
Koksal Toptan for his part stressed finding a solution to resolve Palestinians' problems.
Zionist regime's three-week long all-out war against Gaza was launched on December 27th and left some 7000 people dead and injured.
It has already sealed Rafah border crossing with Gaza, banning the arrival of enough food, medicine and fuel to the coastal area.