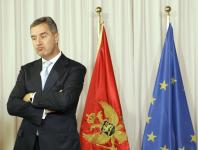 Relations between Serbia and Montenegro, that used to make up a joint state just three years ago, are on "an impermissibly low level", Montenegrin Prime Minister Milo Djukanovic said.
Montenegro's ambassador had to leave Belgrade last October as a persona non grata after Podgorica recognised the independence of Kosovo, Serbia's former province that seceded last February.
"As long as Serbia doesn't say a Montenegrin ambassador is welcome, we shall not launch a procedure for his appointment," Djukanovic told Serbia's Beta news agency on Sunday.
Djukanovic said Montenegro's recognition of Kosovo and the "expulsion" of its ambassador from Belgrade have worsened relations that had warmed after the government of former prime minister Vojislav Kostunica had stepped down, and the Democratic Party-led coalition come into power.
He said Podgorica is ready to improve relations and intensify cooperation with Belgrade "as soon as Serbia does what is necessary".
"We want good relation with Serbia but not to beg (for Belgrade) to accept our ambassador," he said, adding Montenegro would not appoint an ambassador before Serbia says he would be accepted.
Serbia's Foreign Minister Vuk Jeremic said on Monday that Belgrade would continue working to improve relations between the two countries. He said they had succeeded to at least make sure that citizens did not suffer the consequences of worsened relations.
In response to Djukanovic's statement, he said the procedure of appointing an ambassador was "clear" and the Montenegrin Prime Minister was also aware of it.