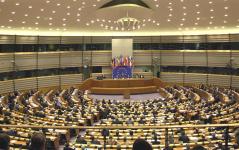 The rapporteur of the European Parliament for Croatia Hannes Swoboda said that the next two weeks would be critical in the resolution of the Slovenia-Croatia border dispute that threatens to derail Zagreb's EU bid.
The border dispute between Croatia and Slovenia is a legal issue for which there are international laws that regulate it, said the rapporteur of the European Parliament for Croatia Hannes Swoboda on Friday, after meeting with Croatian Prime Minister Ivo Sanader, adding that there may be certain political interest as well, which can be solved.
Swoboda assessed that the next two weeks will be critical and he expressed cautious hope that the guidelines would be found for a solution.
All parties will continue talking, Swoboda said, adding that he would personally try to contribute to the proposal of European commissioner for expansion Olli Rehn, to make it acceptable for both parties.
Regardless of how much international mediation and international court can help, Swoboda pointed out that the two parties must agree on the procedure and find themselves in the guidelines.
"This especially refers to Croatia, which, although not an EU member yet, has full support of many membering countries and representatives of the European Parliament," Swoboda said.
He told reporters that he notified PM Sanader about his report on Croatia, which was adopted almost unanimously at the Foreign policy committee of the European Parliament. Some representatives from Slovenia also voted for it, expressing their "fondness of Croatia", he said.
"We are all very disappointed with Slovenia not ratifying Croatia`s NATO accession protocol," Swoboda said, expressing hope that a technical problem was in question, and the matter would soon be solved with a positive vote in the Slovenian parliament.
Croatian Prime Minister Ivo Sanader said that Swoboda`s visit this time was more important than his previous visits, not just because he is the author of the resolution on Croatia`s progress, but because of the situation which additionally became more complicated.
"We expect the Slovenian Parliament to place the Agreement on the agenda as soon as possible and that it will ratify is, so that Croatia and Albania`s NATO accession process might be concluded," the Croatian premier said, adding that Croatia knows what it is doing and is in constant contact with its partners in the EU and NATO.
"The situation is not good, but it is no longer Croatia`s problem, but the problem of the EU and NATO," Sanader concluded.