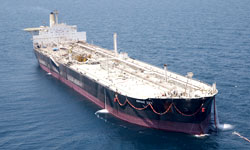 TEHRAN (FNA)- Reliance Industries Ltd. is continuing to supply gasoline to Iran, the International Oil Daily said without saying where it got the information.
Reliance shipped a 35,000 ton gasoline cargo each in December and January and 70,000 tons in October and November, the trade daily said. The company shipped two smaller cargoes of gasoil to Iran in January after Mangalore Refinery & Petrochemicals Ltd. failed to renew a term contract with National Iranian Oil Co., the report said.
Iran imported around 140,000 barrels per day of gasoline last year to meet domestic demand, the report said. Swiss traders Vitol Group and Trafigura Beheer BV accounted for more than 80 percent of the 120,000 barrels a day of gasoline shipped to Iran in January.
Reliance halted gasoline shipments to Iran after pressure by US senators to suspend loan guarantees to the company from their nation's Export-Import Bank, the Foundation for Defense of Democracies, a Washington-based policy institute, said Jan. 7. A spokesman for Reliance didn't immediately respond to a request for comment made outside Mumbai office hours.