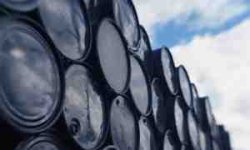 TEHRAN (FNA)- Cheap refined petroleum stored in Asia has prompted Iran and Saudi Arabia to purchase and stockpile millions of barrels of gas oil.
Iran is storing around 2 million barrels of gas oil on ships, as cheap prices encourage the country to stockpile the fuel even though a mild winter has capped demand, the industry sources said.
While Saudi Arabia is using the fuel for power generation and transport, Iran is stockpiling it in tankers.
"We have had to do this because as you know we have limited onshore storage capacity," Reuters quoted a source familiar with Iran's fuel import program as saying.
"We have been doing this for about two months now, and we will continue to buy because of the low prices. Domestic requirements have not been heavy because of the milder winter."
Last year, freezing temperatures that increased demand for electricity amid disruptions to natural gas supplies had forced Iran to cut back fuel oil exports in order to have more to burn in its power stations.
Meanwhile, the national Saudi petroleum company Saudi Aramco has agreed to buy about 3 million barrels of gas oil from the Japanese trader Itochu under a term contract to deliver the fuel to the kingdom from March to December, according to Reuters.
The transaction is unusual because the kingdom, which is striving for self-sufficiency in petroleum products, usually confines itself to buying spot cargoes of fuel when it runs short.
It also usually purchases such cargoes from closer suppliers in the Mediterranean, India and the neighboring Middle Eastern countries.
The kingdom's big cut in crude output, as it sought to stabilize oil markets, has resulted in the production of less natural gas from its oilfields. This, in turn, has increased the shortfall of domestically produced fuel for Saudi power plants and industry.
Saudi Arabia is pumping crude at its lowest level in more than six years. Its oil output averaged about 8 million barrels per day (bpd) last month, down from 9.7 million bpd in July.
International oil companies and top trading firms have been storing crude on tankers since late last year, as they look to take advantage of the possibility of selling at higher forward market prices.
The deteriorating global economy has depressed oil demand in developed nations, including some Asian countries.
Even developing economies such as China and Indonesia are scaling down fuel requirements. The resulting glut of fuel produced by Asian refineries has caused the region's benchmark gas oil price to plunge nearly 70 per cent since July to about $53 a barrel.