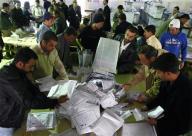 BAGHDAD  – Electoral officials are examining serious complaints of vote fraud in Iraq's western Anbar province, where Sunni Arab tribal leaders are disputing provincial election results.
The independent electoral commission has received a flood of complaints about fraud and other violations from the largely Sunni Arab province, Faraj al-Haidari, Iraq's senior electoral official, told Reuters on Wednesday.
Saturday's provincial election was the most peaceful in Iraq since the fall of Saddam Hussein in 2003. But Anbar has seen tension between Sunni Arab tribes participating for the first time and established parties that ran the province for years.
"Some of these complaints are serious and could be considered 'red' complaints. We may send our officials to verify these complaints on the ground," Haidari said.
"Red" is the term for complaints which could alter the outcome of the vote, which was held to select leaders in 14 out of Iraq's 18 provinces.
While preliminary results are not expected until Thursday, Iraq has been awash for days in posturing by rival parties who claim to have triumphed in the polls.
Supporters and rivals of Prime Minister Nuri al-Maliki have said that his State of Law coalition performed surprisingly well in the south of the country, where Shi'ite religious parties such as the Supreme Islamic Iraqi Council (ISCI) have held sway.
That could lead to a major power shift and strengthen Maliki's hand before national elections later this year.
Maliki, himself a member of the Shi'ite majority, has been meeting other top Shi'ites before the official announcement of preliminary results. He met ISCI leader Abdul Aziz al-Hakim on Tuesday and Grand Ayatollah Ali al-Sistani, the country's most influential Shi'ite cleric, on Wednesday.
Maliki, after meeting Sistani, said any electoral violations that took place were "very, very few" and would not mar results.
Anbar seems to be one of the few areas where voting disputes have led to outright threats of violence. The province was the heart of a Sunni insurgency until tribal-backed guard units, known as Awakening Councils, drove out al Qaeda in 2006-07.
Awakening leaders are threatening to take up arms over what they see as voter fraud at the hands of the Iraqi Islamic Party (IIP), Iraq's largest Sunni Arab party which has controlled Anbar since 2005 polls mostly boycotted by Sunni Arabs.
Anbar was under curfew for a night and Maliki sent an envoy there to meet with local security forces and urge calm.
Awakening leader sheikh Ahmed Abu Risha told Reuters that Maliki's government and electoral officials had asked him to avoid confrontation with the IIP. The electoral commission promised it would not tolerate any forgery, he said.
Preliminary results are expected on Thursday but final results will not be released until the end of the month, when electoral officials have finished investigating any complaints.