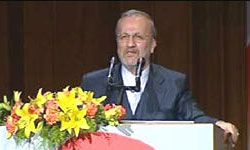 TEHRAN (FNA)- Iran dismissed formation of the Group of 20 to end the global financial crisis as an "inefficient policy".
"Nobody has authorized these 20 countries to make decisions for 190 countries. This rationale which is based on a number of countries' decision-making for the world according to their own national interests has ended," Iranian Foreign Minister Manouchehr Mottaki said on Tuesday night in Addis Ababa, Ethiopia.
He made the remarks in his address to a gathering of about 30 Muslim and Christian scientists and academics to celebrate the 30th anniversary of Iran's Islamic Revolution.
The Iranian Islamic Revolution presented justice to the human society as the core and main key to being, the Iranian top diplomat added in his speech.
Calling the formation of the Group 20 for solving the world financial crisis an inefficient policy, he said, "Solving such problems needs participation and partnership of countries."
Mottaki further said that the US defeat in Iraq, Afghanistan and Lebanon and its support for the massacre of children and women by the criminal Zionist regime displays that force and weapon can no more impose ideas and policies on the world people.