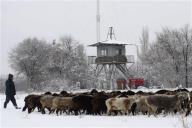 BISHKEK  – Kyrgyzstan's parliament will vote next week on whether to shut a U.S. air base, an important staging post for U.S. troops fighting in Afghanistan, Kyrgyz officials said on Thursday.
Kyrgyz President Kurmanbek Bakiyev announced closure of the Manas base in Moscow on Tuesday after securing financial aid from Russia, Kyrgyzstan's former Soviet master and traditional ally.
Russia, irked by the U.S. military presence in Kyrgyzstan, which it regards as part of its strategic sphere of interest, has been exerting pressure on Bakiyev for some time to close the base down.
Kyrgyzstan's move has set a tough challenge for new U.S. President Barack Obama, who plans to send additional troops to boost the NATO military effort to defeat the Taliban in Afghanistan.
And NATO has expressed concern over possible involvement by Russia in the move. Moscow says there is no connection between the $2-billion package it has pledged to Kyrgyzstan and Bishkek's decision.
Kyrgyzstan says it wants the base closed because it believes Afghanistan's security situation has improved. It has also cited incidents at Manas such as a 2006 shooting of a Kyrgyz man by a U.S. airman and general unease over the presence of U.S. troops in the mainly Muslim nation.
The Bishkek government needs parliamentary approval to proceed with the closure but this is seen as a formality as the chamber is controlled by a pro-presidential party. A simple majority of votes is needed.
"We have included this issue in our February agenda," said Avtandil Arabayev, deputy head of the ruling Ak-Zhol party.
"We did consider the possibility of voting on it tomorrow but according to the rules it will be voted on next week."
Other deputies said the assembly was all but certain to vote in favor of Bakiyev's decision. "I have no doubt about this," said Erik Arsaliyev, head of the foreign affairs committee.
MOSCOW "FLEXIBLE"
Russia, while blowing cold on the U.S. military presence in Central Asia, has politically backed the NATO effort in Afghanistan. It says it will be flexible to U.S. requests for supplies to Afghanistan to be allowed to cross Russia.
The base has been used as a staging post by U.S.-led forces fighting Taliban and al Qaeda militants in Afghanistan and the Kyrgyz move comes as Washington seeks to reinforce supply routes that bypass Pakistan, where convoys face security risks.
Officials at the sprawling air base outside the capital Bishkek said Manas continued to operate as usual as a support hub for coalition forces and cargo in Afghanistan.
"Nothing has really changed," said a Manas spokesman. "It's a wait-and-see situation."
Once it has received parliamentary approval, the government would have to send Washington a note ordering it to shut the base. After that the U.S. military would be given 180 days to close operations and leave the mainly Muslim country.
The United States, whose total annual assistance to Kyrgyzstan is $150 million, says it has not received any formal communication about closing the base, home to 1,000 personnel.
"We're having discussions with the Kyrgyz about this and we'll continue to do so," a State Department spokesman said.
But on Thursday, people on the streets of Bishkek, a city nestled on the foothills of the Tien-Shan mountains, seemed to be divided over the air base.
"I think they (Americans) should go. They don't like Muslims, and I don't like what they are doing in Afghanistan," said Nurbek Katykeyev, a 19-year-old student.
Others disagreed. "We should keep the base," said Amanekhen Shuriyev, another student. "They are paying us money and also I don't want terrorists to operate here."